I said it last week and it was evident in this game. If you want to move the ball against OU you have to attack the middle of the field (between the hashes).

Go look at Spencer Sanders throws. Most of them were intermediate throws and several of them towards the middle of the field.

Glad Gundy and Dunn came out with a completely different mindset in this game. They didn't try to force anything on the run game and finally trusted Sanders.

Defense was pretty good as always. Struggled some defending deep throws. Baylor may try to exploit that so hopefully it's something they work on this week.

Sanders running ability saved us big time. He got a few first downs with his legs and ran one in for a touchdown. If this were Rudolph, Weeden, or Illingworth back there we wouldn't have a chance in the little running game we had.

Glad we switched it up to zone coverage some and didn't rush too many in the 2nd half towards Williams. OU offensive line was doing a decent job closing the gaps and protecting Williams in the first half despite the defensive rush.

I think OSU offensively and special teams wise probably played their worst 3rd quarter of the season. Nearly shot ourselves in the foot.

This team isn't built to mount a comeback. Even though it was just a 9 point swing I was pretty impressed with the 4th quarter. That's just something that's hard to overcome when you play a program like OU.

Devin Harper should be player of the game tonight (Collin Oliver a close 2nd). Dude literally missed the tackle and got back up to chase Williams down from converting on 4th down.

We literally gave OU 23 points just by shooting ourselves in the foot. If I'm not mistaken we only had 7 points off their 2 turnovers. Hopefully that's just because it's Bedlam and we don't repeat that same process next weekend.
I'm 55, closing in on 56, and this was the 9th time OSU has won in Bedlam. So 8 wins in 26 years is pretty good, actually. LOL.
Take care of business against Baylor and then root hard for Georgia, Houston, and Iowa.
I think best case scenario is Georgia beats Bama, then if the committee will put us in over Notre Dame, which if we beat Baylor they should, you could be looking at 1. Georgia, 2. Michigan, 3.OkState, 4.Cincinnati. That would be a very intriguing matchup between us and Michigan.
Would be quite a statement for the new-look Big 12 to have two teams in playoffs!
Where does Texas play its bowl game?

Personal we should jump noter dame this week. They have been living on their loss to cincy long enough. Their only win is Wisconsin which will be a top 25 win. The big 12 was told it need 13 points, did noter dame not get the same memo.
We beat 3 top 25 teams in a row just beat a top 10, beaten Baylor who beat the pac 12 champ byu. Personal we should be 3rd this Tuesday.
It will be nice not having Alabama tosu, ou and Clemson in the playoff
Congrats to the Cowboys. We (OU) didn't deserve to play next week. Aranda & Gundy have easily done the best job in the Conf this year. The officiating was bad last night, but the best team won. Once Knowles went into playing coverage the 2nd half……it was over. Lincoln won't stick with the run & Willams won't just take what they give you. If you guys get in as the 3, you can absolutely beat Michigan. If you get in as the 4…….no chance. I said it……the OSU defense is good. It's the best in this Conf. But……it's not elite. You guys are tough. Play hard. Deserve to be in Arlington.
I agree we should jump notre dame this week but you know just like I do that logo plays so until I see it I'm going to be skeptical
Not a single grouping should be proud or justifying their performance in Bedlam. Neither offense, neither defense, neither special teams nor the officials performed without major exception. While I am quite happy to be in the Big 12 championship game, I have taken more pride in some losses than I have in several wins from this season. From Missouri State to Boise State and now Bedlam, we did not play well, and emerged with victories only because of effort and happenstance. I saw complete effort versus WVU… and if that team doesn't show up for the CFP, assuming a win in Arlington, it will be a more bitter than sweet accomplishment.
I do appreciate your gracious comments as a Sooner fan. A win is a win, but this was one ugly win.
First half defense was bad. Second half defense was pretty good minus a few wtf Caleb Williams runs.
OU fans are so obnoxious. Blaming the refs and poking fun at us for getting pumped about the win. This was more than a yes we beat OU. One game closer to big 12 championship, then hopefully CFP. What's OU got in their future? Besides never making CFP when they get to SEC
I think the complaining about the call at the end is comical. The refs were awful all game what did they expect? Plenty of stupid flags thrown and plenty of ones that should've been thrown. Kicking sanders in the nuts when he's down clear as day and then complaining about them picking up the roughness flag later like come on. OU is the beneficiary of reffuckery far too often. The one time it doesn't go their way they lose their minds.
Ur rite they could be like osu fans and blaming gundy for not not winning.
Yes that roughing the kicker call was certainly bad.
@bkm That's roughing the kicker every day chief. If you take out the plant leg, which the OSU player did……it's automatic (by rule) every time.
I agree with what you said but the replay I saw on the big screen, he was not touched. The reaction after the replay and from Gundy supports what I think I saw.
@bkm So you agree that if you hit/take out the plant leg, that it's roughing the kicker.
So……that's what he did.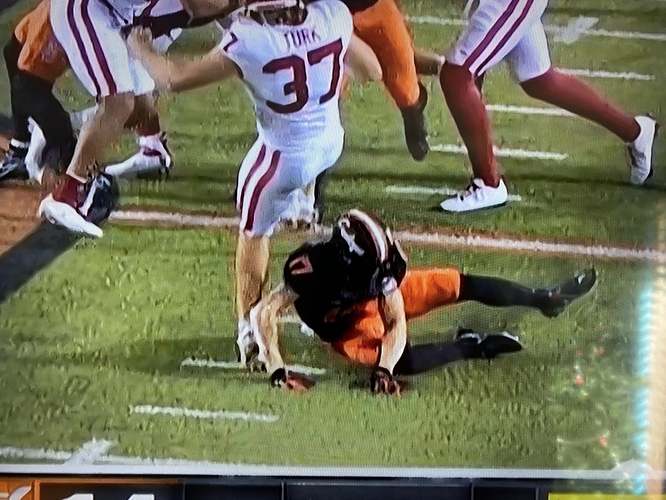 I'm definitely not saying that OU lost because of the officials. Not at all. The two calls that I hated were the one where they throw the flag for what was going to be unsportsmanlike conduct & an OU 1st down……& the pick it up. I hate those. If you throw a flag for something like that, you obviously saw it. Then you say "nah I changed my mind". I hate those. The other call was the no-call on what I felt like was Pass Interference on the last drive.
BUT AGAIN, OSU IS/WAS the better team. The officiating did not cost OU the game. Their poor offense in the 2nd half did.
Absolutely. It did not look like he hit the leg from the angle I observed. It appeared to be a flop.