I believe we have a triple entendre here

Phrasing

https://x.com/Brett_McMurphy/status/1727011151181987992?s=20
I charted the stats for the semifinalists (per ESPN stats) as of right now.
Blake Corum has the lowest average YPC but most TDs. Ollie is tied for the lead in rushing, 2nd most in TDs, and has the highest YPC. I also took the averages of all these players and created an index to show how they compare to the each other.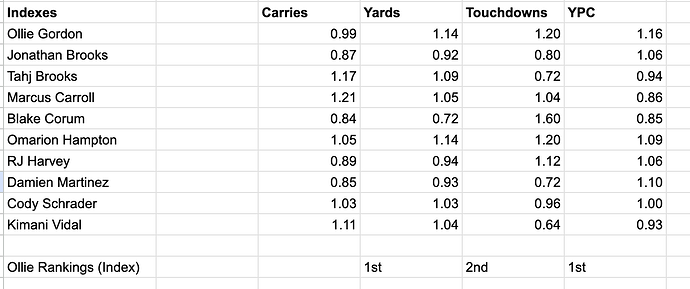 You forgot to include column B of your first photo. When it comes to these awards, that column by far holds the most weight. /s
So is this week the last time they play before voting? If so, I hope OG is healthy enough to give him 25-30 touches again. He needs to separate himself. Hard to believe he did this in three less games than everyone else.
I know it counts but I'll go ahead and lump whatever TF Orlando was and say 4.
From OSU Athletics email just now. Pretty impressive.
"With just Saturday's matchup against BYU remaining in the 2023 regular season, Oklahoma State has been ranked in either the AP Top 25 or Coaches Poll entering its final game of the regular season in 10 of the past 14 seasons."
Needs to beat the crap out of BYU.
Last year
2019?
2018
2014
Were we not ranked in 2019? I think we were 8-3 going into bedlam.
Definitely 2018, 2014, 2022. 2020? We were 6-3 coming off an awful loss to a crappy TCU team in 2020.
2012 is probably the other one. Ended with loses at Norman and Waco if memory serves.
So is Ollie dealing with a nagging ankle injury? Would be great to see him have a big first half against BYU and then let him sit the second half. We're going to need his best game if we end up playing UT.
Agreed. Was a little frustrated that they ran him out there for the last series against Houston when he was clearly injured and the game was clearly over.
That was just, off the top of my head, you could be 100% right!
Edit: just looked it up, it was 2020 and the tcu loss knocked us out.
@CowboyJ we were ranked 24 in 2012 for our final game!
There's a Gundy article in the Athletic about how he changed his (formerly) negative opinions on NIL and the transfer portal
Some good quotes:
"The portal and the NIL are extremely difficult for me. I was resenting both of them because my personal opinion is that it's not beneficial for young people, but I finally realized that it doesn't matter what I think," said Gundy, who added he had a change of heart about six months ago. "It's like not agreeing with what the tax laws are. You have to pay whatever tax bracket you're in, whether you agree with it or not. That's a wild comparison, but you get the picture."*
another good one
"The portal really broke me when it first started three years ago, because I took it personal," he said. "And then I realized that sometimes kids leave because they leave — they want to do something new. So I've now gotten over the personal side of the portal and am trying to adapt to the financial side of NIL."
"Gundy is candid that Stillwater isn't exactly swimming in big-dollar NIL offers, but the capabilities are expanding and improving, in part because he decided to become an ally instead of an obstacle."
Good for Gundy -he's right on both his personal opinion of why NIL/transfer portal is bad for kids and simultaneously why he has to suck it up and adapt.
On a much smaller scale, I totally empathize with Coach Gundy. I used to only take volunteer kids to shadow/intern. Those volunteers worked harder, were more respectful, and were often better overall human beings. Then our system converted to a paid shadowing program, to which I did not personally agree. The talent level of those shadowing went up with a competitive monetary system; but paid interns also project more entitlement and poorer bed-side manners. It's a tough trade-off.
Dude, and Coach Gundy would realize, if he listened to the general fanbase, we don't like that sh*t either! But it's the reality we now face and have to adapt to it. No use in being resistant.
there's a whole economic side of it as being able to do unpaid internships creates a disadvantage for those that aren't as privileged. glad it worked out with the our changes
and glad Gundy also smartened up that his personal feelings needed to be put aside so he could adapt. Folks like Jimbo and Gary Patterson struggled to adapt and they're in a much different spot now