I believe LD had a big running play called back on penalty against Tulsa as well, correct? He's having a nice year so far.
I agree that Hubbard is still the better back, but if the line continues to struggle, Brown will be more effective than Hubbard. Chuba uses space and lane reading to get his yards, whereas LD is more of a power and straight downhill guy. If the line isn't opening huge holes to run through, all it takes is a body and Chuba is going down. LD is better through contact, and that's why he's having more success every time he gets the ball than Hubbard. The line just can't open those holes that he was seeing all year last year.
I think Chuba's problem is 1. The offensive line and 2 it seems to me like he keeps bouncing everything outside trying to go 80 yards. There was several times against WVU where he got 2 yards or less because he tried to go wide instead of just getting north and south and getting 4 or 5.
Ty
Because BPS is the only Power 5 stadium (football field) to run east-west rather than north-south, your statement is true in theory but not in fact…
Excuse me. The best uniforms ever???
Those uniforms reminded me of a plain vanilla sundae dribbled with orange syrup.
The best looking OSU uniforms will always have a strong amount of black as an added flavor.
Notice I am old school since I communicate in full words rather than abbreviations.
To me the word uni sounds too much like my baby's onesie.
I'm not surprised by what ld is doing. I wrote on this site ask about what could go south for Hubbard. One was ld having a good yr. No one answered me tho. Here are some numbers, 770 yards on 121 carries. Sanders what in 9 or 10 games has more carries. Ld can run it's not new. I know he had some bad luck last yr. Still had 5.5. I'm glad he as a 5th yr sr is getting attention.
I have to agree with your sentiment regarding the uniforms. Picking basically an all white combination(visitors style) although nice can't possibly top a black, orange black combo.
To add to that, it's no coincidence that all of LD's big runs have been up the middle. Last year Hubbard was so patient with his reads, and this year it's almost as if he just sprints to a spot the second he gets the ball expecting it to be open. On all of LD's big runs up the gut, he's almost been at a stand-still when the ball is handed to him, he waits patiently for a hole to open, and he hits it. LD has always been fast and strong, he just lacked patience and field vision. He's been excellent this year with it. Very impressive.
The Thurman Throwbacks are cool. Especially if OSU is the visitor in a bowl game. The BEST uniforms, however, were the Barry threads. Essentially the same, except orange jersey. That was the BOAT.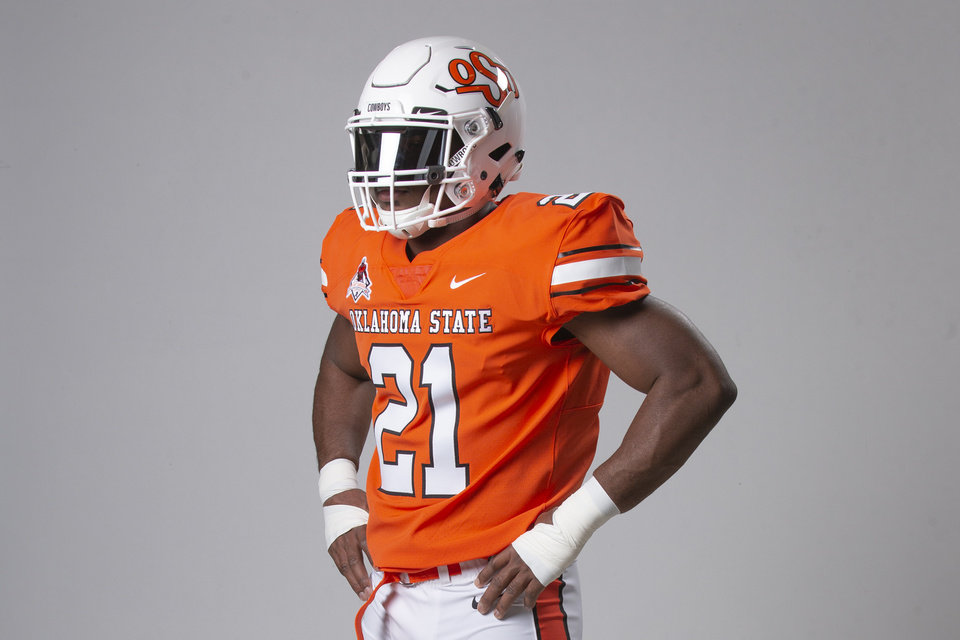 The ld td wasnt a straight between the tackles. He was running wide then cut back at the guard spot. Just say
Go back and watch it again bud. One cowboy back pulls wide to seal off the inside shoulder of the DE/ OLB , the other pushes up to knock off the MLB. That was a classic lead run up the middle, just out of the diamond. "Up the middle" doesn't have to be between the guard and center, just has to be between the tackles
I'm not ur bud he was parallel with line at the tight end spot then cut back in between the tackle and the guard. I have no problem with Hubbard. But ld has been in the line up enough for u to say what kind of a back he is. He is a 5th yr cowboy back who as less cares then sanders in 9 games. I don't know what ur try to prove by say he is not a good back. Can only run here or there when uve seen at most 40 times a yr. Most in mop up some yrs. If u want to believe straight forward back great hope the league will to.