Exactly . We see where he ends up. He is going to texas to go no where.
Money talked on his asx , I don't think God played into it !
You can hardly blame a Texas kid who gets an offer from Texas to flip and put on the Burnt Orange. This is what is wrong with Texas football. The kids are satisfied to just get an offer, thinking they have a clear path to success, on the coattails of a few Texas high school superstar legends. But nobody wants to work hard and sweat or get their uniforms dirty down there. They are just satisfied to be on the team. Better to have players who really want to be Cowboys and have something to prove to the Longhorns and Sooners.
Too many kids right now looking for the bucks instead of going where they feel a good fit. He stated he felt comfortable here, even has kin here. I hope Texas and ATM never become relevant again
Lol. He can go to Texas and end his football career with the next coach after Sark.
Or can join OkState and sack #1 recruits. Lol
At the end of the day: $$$ Talks and BS Walks.
I honestly wish recruits wouldn't commit so early in the process. Go take all the visits you can before making a choice.
I wonder what the going rate is for a 3 star DE recruit
Also wonder when salary caps will be instituted in college football lol (kind of a joke but kinda not too)
Alleged rates for guys. Not sure how accurate this is.
On3 gives nil values for each recruit they rank
The article says a 3 star DL signed for 500k over 4 years. I'm sure that's significantly more than what On3 has for their NIL value.
Enjoy 6-6, fellow.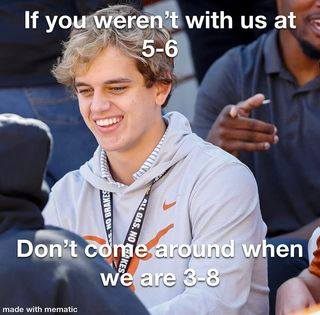 I have a feeling all this money is going to make their guys EVEN MORE COMPLACENT. They've been getting recruits who are rated a lot higher than most of our guys, how has that panned out the last 10 seasons?



Something weird going on in Austin, and by that I mean how lousy they've been. I think it's too many distractions, you got some of the best looking coeds in Murica, crazy nightlife, pretty lake nearby, lot of Californians who have moved in, and doesn't seem like their guys are overly strong and/or fast.
Let's compare the Stearns brothers, since Jordan (3 star) played here, I can't remember him ever missing a game, and Caden (4 star) played for UT and got hurt a lot. Jordan easily had the better college career! Not to say the injuries was cause Caden was lazy or UT's strength coach isn't as good as Rob Glass (although I'd think a lot of it is due to that factor!), but there's something to it!
Unfortunately bowl games have no meaning now because of the final 4 and this NIL even taints the ultimate goal to win a national championship. Get the bag wherever or whatever team is willing to pay. National championships don't pay
Soon it will all be gone.
Yea something in the water there or just complacency ? Or lazy with a pocket full of money. One day they wi hit on a coach that makes them work and care about their performance. …. Did Caden make a go of it in the NFL, I never kept up with him ? You are right, Jordan was a tough son of a hun !!
6 and 7 figure deals. Pretty unbelievable.
Honestly, there should be a cap on the size of a football program's budget (in addition to NIL regulations).