Nothing to exciting it could easily happen
Most definitely drinking the orange Kool-Aid if you think we're getting 10 wins, LOL! I hope I'm wrong, but I'm pretty confident.
Nice right up Gregory.
As a true freshman, Ollie showed beyond his years vision, elusiveness and power. He should have a little bigger holes and might push to lead the Big 12- he's that good.
Watching Rangel's tape from last season, he had a few wounded duck throws when scrambling for his life, but otherwise made very few unforced errors. Wouldn't be surprised at all if he doesn't out QB the transfer.
Spot on that only games we should be dogs in, at this point, are KState and maybe OU. Have to see how far along Nardo and Clements - yes he's still with us and Co-DCo - can get New D installed.
GO POKES!
"…Squinky is always lurking around the pylon." GREAT line! Story of my oSu fandom life!
By the way, did anyone see Josh Pate's prediction for the B12 title game?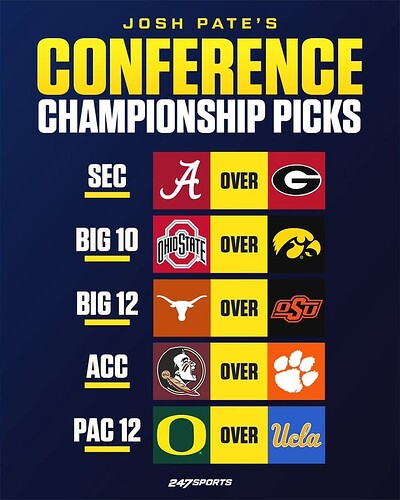 GO POKES!!!
It's a stretch, for sure. But…pass the Kool-Aid!!!
LOL! And good luck to the Pokes, get 'er done!!!
Talk about a WILD prediction, LOL!
So what is Josh Pate's reasoning? Is it the easy OSU schedule?
Apparently - and he thinks our incoming transfers > outgoing transfers.
Haven't listened to Pate, but we have a really good path to the CCG with our schedule. Only 2 games that I would tag us as dogs are KState (Klien, OLine, QB returning) and OU (historical).
Meanwhile, KState, TCU, Texas, OU, Baylor, Tech have MUCH tougher schedules so see it likely they beat each other up handing out a lot of losses to the grouping.
Personally I think most likely OSU meets either KState or TCU in the CCG.
That his computer model. He was on heartland today and picked ksu on his own feeling over osu in the title game.
Saw and computer model that had us at 23.
Cant remember but another had us 4th.
It's 90% based on schedule. Only underdogs in two games most likely, plus a bowl game to add another W.
All you experts need to make a prediction on how every game is going to be so we can revisit. Sounds like many of you think we'll win 10 games or more.