Best gift ever would be the Pokes ending the Sooners streak of B12 championships in 2020
This C19 is still hanging in there but I haven't seen a death toll so let's hope it runs it's course. I'm excited for this season, I think it all hangs on Sanders improvement and health
Go Pokes !!
"it feels pretty good to not be writing about OAN or NCAA legislation or the coronavirus, if only for a day."
You brought it on yourself KP.
For sure. I actually created the coronavirus. Big news.
You should definitely be covering your own culpability in Coronavirus.
Brent #leader of BLM #the White American oppresser. You must be upset with Kyle for writing about something else other than your agenda so you can't white shame today I'm sorry. You know anything about sports? Let's hear what you got?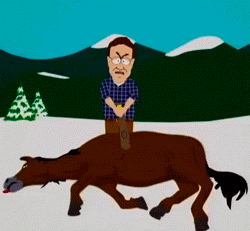 If the horse keeps moving Brent I have no choice but to put him out of his misery! That's the only humane thing to do. Now your getting me to show my very tiny liberal side.
I will keep doing my civil duty as long as You and people of your Radical BLM group Keep blaming and shaming good white folks. Until I see a change in you Iv got to hold you guys accountable.
I was speaking of OAN to be specific.