Good article. It speaks the truth. Ou has two losses and every pundit maps out a way Ou can get back into the title race. But if Iowa St and OSU keep winning it will be a Cyclone/Cowboy rematch for the title.
yep! great win, the defense should keep balling out…and I think sanders will knock off some of the rust and get into a groove and the offense will start to look better too (not that they looked bad yesterday), but this team has all the pieces to be great on both sides of the ball
I don't think the first sanders INT was errant per say. Tylan was open on a route he runs often, it just got deflected by the blitzer unfortunately. The second one was sanders fault, he waited too long. Other than that I thought he had a pretty good day, all things considered. That was probably the best defense they will face the rest of the regular season.
Nice article. This team will have naysayers national and local. I do believe this is the best overall team in the big 12. This team does alot of great things. Coming in this yr we had two short comes, qb and defense turnovers. So far, ( even with the oline troubles) those are still there. But, the defense gets of the field. I know I've been hard on #3(with less then 1.25 game played) his numbers are the same as last yr. Maybe its rust we will find out. If Gundy win with this qb play it'll be an amazing job.
This win probability chart from ESPN shows how "comfortable" the 4-pt win really was. Pretty dominant despite losing the turnover battle.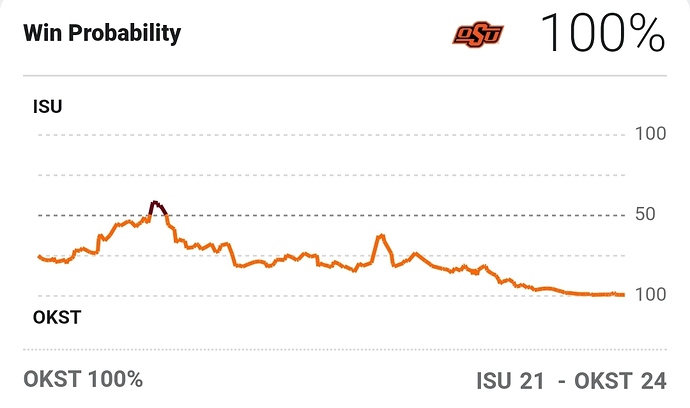 If OSU is truly a conference champ contender will find out next Saturday. If the Pokes beat Texas they'll be in great shape. Iowa state is average team at best, and yes I know the beat OU. The reality is they also lost to Louisiana. Texas will be our first true test.
I would not jump on the Cowboy band wagon until I see the offense start to play at their potential. I did not expect that to happen against Iowa St. because Sanders has to have a few games under his belt to get back in rhythm as far as the passing game goes. But you also need to have a running game to be able to pass. I didn't see the O line opening enough holes against ISU and that concerned me. That was especially evident when LD Brown ran the ball. No where to go. There will be no conference championship with just outstanding defense like we have seen. I think the outcome will be up to the O line. But what I liked most about the ISU game was that Dunn got more receivers involved. I would like to see less of those line of scrimmage passes because they go nowhere. If OSU beats Texas, K State, and OU, then I will start thinking of them as a playoff team. But not until then. If 2 guys did not get kicked off the team and the guys on the O line did not get injured in the Tulsa game, then OSU would be putting up its usual 40 pts per game.
Iowa State over the years when they have good teams still ends up playing inconsistently. They usually upset a few good teams and then lose when expected to win. It just goes that way for them. I think they fielded a pretty good team against OSU. They have a really good QB, good RB and created some close pass coverage. Nothing wrong with that team other than they seem jinxed. It used to be that OSU had most of the bad luck in the conference.
The team is good. The offense just needs to be allowed to go full throttle when ahead. I think Gundy dials down to the strength of the defense and that is why we are not scoring 35+.
It's like a broken record. We haven't played anyone till we meet isu. Now isu isn't any good. I think Texas is poor discipline team. If we play our game we will score enough. Ehlinger is good if u let him. We control him like purdy then he won't be trouble. Not scared of the backs or the defense.
I think we are the best overall team. There is real parody 2 thru 5. 6 thur 9 can win with the rite match up.
Can we lose yes. We stay discipline as we have and sanders limits turnovers, we can go 11 and 0
During the 2018 National Championship Gundy's comments were very telling. Several times on third down Gundy suggested Saban should run to the center of the field to set up a field goal. He also thought replacing Jalen Hurts with Tua Tagovailoa was crazy. (You stay with the one who brought you to the dance)
Everytime it worked out for Saban and resulted in a come from behind win. The difference in a coach that wins championships and a coach that won one championship 9 years ago.
Are u free maybe the new president will hire u.

I never watch that , but I remember how they praised Gundy on ESPN after it happened, on his insight.

maybe they we watching a different game​:rofl:


ESPN always loves it when Gundy makes an a$$ of his self. If Gundy is half the coach y'all think he is, this year should be a cakewalk.
My thinking is that it's not that people don't think OSU might be one of the best teams in the country. I think when you look at how Gundy handicaps his team's abilities in the 4th quarter after getting a lead is what rubs a lot of folks the wrong way.
In regard to OU it's understandable. They've dominated the league the last 5 years and recent or prior success always psychologically plays in the back of people's minds. Mike Gundy's inability the last few years of not being able to beat OU also plays in the back minds of sports media pundits. So I can't say I blame them for not being ready to be a believer in OSU yet.
I agree with all this. OSU is basically playing with the 2nd string OL the rest of the season and the offense hasn't looked consistent enough to show me they are THAT team yet.
Gonna take more than a W against Iowa State to convince me this team is Big 12 Champion bound. Especially when they look so crisp and consistent on their first offensive drive and eventually have to settle for a FG (which they missed) because they have no red zone offense to speak of.
If Gundy wins this yr it'll be his best coaching yet. Being handicapped with sanders is hard to overcome. Not only does he have troubles with turnovers, he red zone play is bad.
Ou has dominated what ever league they been for the last 80 yrs. U taken over for ar1 for captain obvious, ur rite 3 win don't make a title. I hope we lose a 30 pt lead in the 4th and win by one to give u something to talk about next week​:upside_down_face:





If we lose a 30 point lead to win by 1 in the 4th quarter I doubt I'll be the only one screaming about Gundy's conservative ways in this blog.
And yet Brennan Presley still hasn't been used in the return game!!! Not that I'm surprised because I said before the season started that he's are 2nd best offensive player and will not see any real playing time. I'm tired of watching stoner field catches because he can't take it to the house at all. If Brennan played for any other team he would have had a couple returns for them by now. Gundy handcuffing his team.