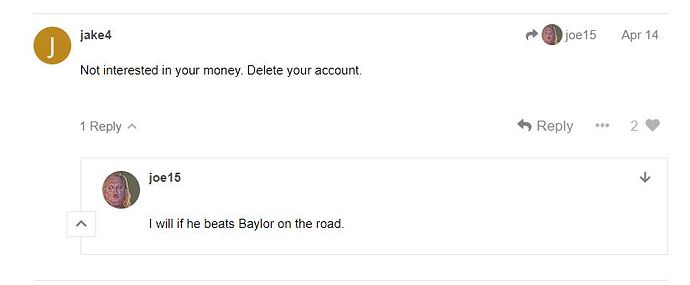 Well, @joe15. We'll always remember you because you were such an unbelievable hater. You were wrong and never admitted it, but we'll remember your words forever… because you only said three things and you said them over and over and over again. If you want to give your last words on this thread, we can. Then I better never see you on here ever again. Don't make a new account. Go troll CRFF.
@firegumby you want to come tell us how terrible Spencer Sanders is? I saw you peeking in when he threw that pick. Never mind that Shapen threw two and that Sanders was in a hostile environment and completely scorched Baylor's D, but let's here it, buddy boy.
@ar1 you still have to be you, and that's sad, but you also picked us to lose and so you are a loser.
You may all collect your Ls at Will Call, but I will not call.