This is just a Tech fan being a sore loser, nothing more.
The moron doesn't realize we need every Big 12 team ranked as high as possible
Don Williams is just another high-school-JV'er-turned-sports-writer that wants to BE the story…not WRITE the story.
It just doesn't matter. The AP Poll is silly. Why argue with anyone over silliness? How do 60+ sports reporters know enough about 131 teams in order to rank them one against another? They don't.
What matters is that we beat next up, TCU.
He probably is crying about the tech game. He gave us a poor vote previously tho.
Willing to bet anything that if Tech played the same schedule he would have them comfortably in the top 10. I don't know if OSU is truly a top 10 team at this point, but I'm not going to punish a team that's done nothing but win so far (and won every game by double digits I might add).
If we were winning every game by a single score or less then I guess he might have a slightly valid point, but even then there have been a lot of good teams that have won several games by single digits (Notre Dame 2012).
Here is one thing he said when asked about OSU: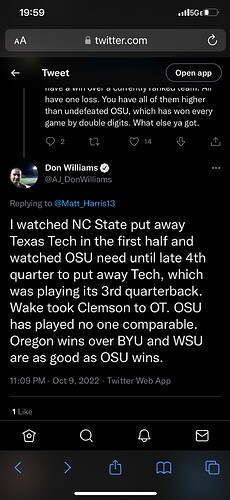 What he doesn't mention about that game is that Tech also turned the ball over three times (one resulting in a pick 6). OSU only forced one turnover against Tech and still won by double digits.
If we win in Fort Worth Saturday I want to see him justify keeping us out of the top 10.
Lot of disrespect out there for along time for OSU from talking heads and NCAA it has seemed for what ever reasons. One reason is I would guess is it's hard for people anymore to look at gundy as a coach that can win a championship or get to another level after 11 years of just getting close but not being able to close the deal would be one. It's just human nature. I mean look at penn state for instance, they are usually good but years of not being able to close the deal just puts a perception in their head that they won't be there at the end of the year. If gundy can get there a time or two in the next coming years then that might change.
The AP poll is doing exactly what it is designed to do . . . create controversy so the writers and drive by sports media talking heads have something to write about and something to say to fill blogs, papers, magazines, and TV time.
If OSU gets the offense hitting on all cylinders they will be tough to beat. With all the receivers back Saturday I expect great things if Sanders game is on point.
Doesn't surprise me it's from a Tech writer. That fan base claims we stole some of their traditions and refer to us as Xerox U.
Traditions we stole from Texas Tech:
1.) Causing Texas Tech to lose games.


It's the national disrespect that's kept us from winning the conference.
Trophies=Respect
I'm sure this is some snide joke, but even a joke has to make sense.
I consider you a joke but you never make sense.
Oh, that's because I'm a lot smarter than you and you're an unitelligent person incapable of critical thought. Does that help at all?