Again great pitching trumps great hitting. I hope the new pitchers for the Cowboys can come around this season. Everything else seems to be in place for a memorable season but the young arms are an unknown factor. No way Grand Canyon beats this team later in the season. Anytime anyone beats ASU that is quite an accomplishment. They have the advantage of playing in good weather all year round.
Soooo glad baseball is back and excited to see how this team fairs this year with all the freshman and transfers. GCU was a disappointing start but ASU is a great bounce back. I was wondering if this blog was even gonna post about baseball! I mean it missed a whole 3 game series over the weekend…especially with it being the season opener! Then to write this small a write up over a top 10 win? I mean I appreciate it but dang I was expecting something decent size and we get the bare minimum
There has been quality baseball #content considering we opened a four-game stretch on the road with limited air time.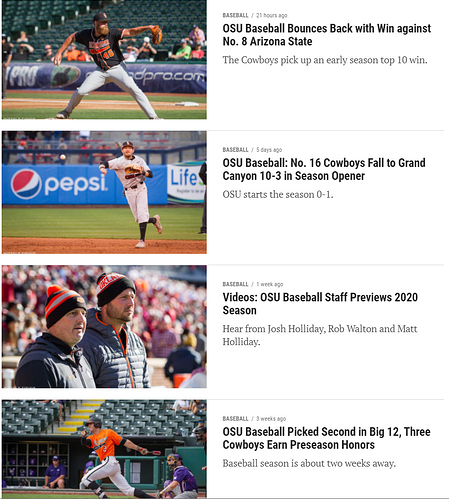 Interesting weekend series upcoming for the Cowboys…
Pokes host UT Rio Grand Valley - who split a 4-game series against Big 12 foe Kansas State.
Oklahoma State is 14-18 all time against UT Rio Grande Valley. Surprising stat considering OSU is the fifth-winningest team in NCAA history.
You're right I missed the article they did on the first GCU game. They didn't write anything on the other two GCU games but I guess I was just over excited about the baseball season and just wanted to read something about it
I'm so hyped for this season! It stinks starting on the road because it kinda feels like it hasn't started yet haha
I understand why they do with the weather and all, it's much warmer in AZ. It'll be official then this weekend lol, hopefully we can pull out a sweep but those series numbers you posted show it's gonna be tough. Hopefully the fresh has a good start tonight and can put behind him last Friday's start
17-18 now after a great weekend!