Hope these people are right
Sorry, originally posted this in the wrong thread. Here are my takeaways from that podcast, but I'm just a bit hesitant to think this is going to work. Maybe cautiously optimistic is more accurate:
Seems like a really personable, likable guy and coach. Strong family values and work/life balance
Learned much of his trade from sitting in a room observing other coaches and breaking down film
He'll run whatever scheme he thinks is needed based on the personnel he has. 4-3, 3-4, 3-3 stack, whatever. The key isn't the scheme but believing in whatever you put out there.
Obviously it matters how well he coaches and adjusts in-game, but I am somewhat concerned about recruiting. Can he continue to elevate the talent coming in? I am anxious to find out.
Yea!!! Gundy is so stinking smart that he out thinks himself all the time and yet he keeps doing it. One question here….how many top recruits or say lower 4 star talent are going to be lined up wanting to be coached by a D-2 coach??? Anybody??? You wonder why gundy's recruiting is complete trash? Now you know why. Our AD should be fired yesterday. Complete joke gundy is making of this school.
Yeah, complete joke that we're one of the winningest programs in the nation. We ought to be ashamed…ya dufus!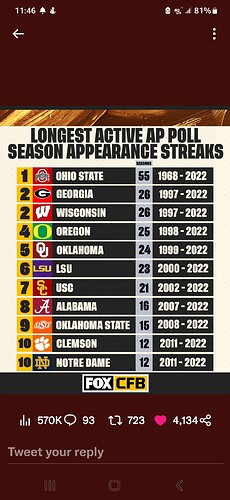 How many other teams on that list have one conference title?
Usc and Wisconsin dont have many.
Nutter lame have no titles. I think you would have had a hard attack if you were a nd fan. Asking yourself why they have no titles.
Im curious jug why does dn have no titles.
This post was flagged by the community and is temporarily hidden.
And yet the only team on this list that gets 0 respect and that's gundy's fault. He doesn't win the big games how do I know this to be true you say? Because Iv watched him coach for 19 years. He's not winning anything meaningful for the rest of his coaching career you can bet the house on that. Just got to watch him get old and even more predictable. Sad to watch him wither away while stealing money and time from this university. Athletic director needs to grow some balls and tell him thanks for your service but mr.gundy we are trying to win here. No balls. Hey Gundy, hit the road and give your AD a ride home also.
#1, it's "You're" genius…and #2 - we all appreciate YOUR astounding insight. Wish you were coach!
And maybe you're too close to it, because he is and we are very well respected across the country. Read some of the Twitter comments from people who aren't "fans" - people think highly of us because we win…a lot. Btw, I too have watched Gundy for a long time - since we were in high school actually. You have your opinion, I get it. But, reality is the pic I shared. We win…a lot.
Go Pokes!
If he's the workaholic they say and a really good coach, can he recruit ? Hope he can , doubt he has had to at that division. At least JB is co defense
In one sense, Gundy put a tremendous amount of pressure on himself with this hire – it, by gosh, better work or he'll look really bad.
You are so right about recruiting. It's about the Jimmys and Joes and not the X's and O's. I don't think we have enough LB's to run the scheme the new DC wants to install.
I'm going to assume you're one of those used to 70's, 80's, and 90's OSU football? And hold the theory that the program can't do any better?
I think he's hesitant to promote people up now. Didn't work with Glen Spencer and it's not exactly working with Kasey Dunn currently. I'll wait and see what this guy does, but I still think we should've went after a G5 DC.
Why would you think that? Who's "used to" football from decades past? I don't even know what that means. I've been a fan since the 80s, yes. (We had some pretty awesome teams back then, by the way. Look up: Sanders, Barry and Thomas, Thurman. Pretty salty.) Went to school in the 80s & 90s, yes. HATED how bad we were, yes. But obviously, I think we can do better than we did then…because we HAVE! Can we do better than we are now? Sure, everyone can get better. But EVERY program in the nation wants that. We can't just say, "Since we haven't won conference championships (sharing the conferences with 2 of the bluest-bloods there are) and haven't won a natty, we're settling for mediocrity!" That's silly and illogical. Media people all over the country talk about Gundy's ingenuity, his development of a constant winner, our culture, etc. I'm surrounded by Boise State and PAC12 people who always talk about how they wish their school could do what we've done in the past couple decades. You hate it because we haven't won more conference titles…I get that. But this whole notion that we're mediocre and Gundy's an awful coach and our program is content to "just" win 9-10 games as a good season…that's just crazy. I don't get why you self-proclaimed "fans" with such deep football knowledge (as one dude put it on Twitter, "Twitter-coaches") can't just admit we're really a good, borderline great program - and the whole country can acknowledge it - is beyond me!
Meaning you think as long as the program isn't going 3-9 everything is fine. The concept of how bad it can get instead of thinking how much better it could be. I'll agree we had some good teams. The thing is it really didn't amount to anything great outside of Thurman and Sanders. I don't expect OSU to be on the same level as OU either. We also played a school that isn't a BB for a conference title and found multiple ways to keep ourselves out of the end zone. K State isn't anywhere close to being a BB and they have a couple of conference titles since 2012. OSU has zero in the past decade. So I don't know how it could be silly, illogical, or impossible to win another one. I guess if you're a guy that's fine with 3rd or 4th and 8-9 wins or so then fine. I think it's been way past time for us to get past that point. We need to start winning big games more than a couple of times every decade.
Clint you are spot on but your wasting your time. Some folks for a variety of reasons just want to poop all over everything no matter what. I don't understand why but they just do. Obviously it gives them some kind of satisfaction otherwise they wouldn't do it.