First post here! Let's go!
Continuing from the other thread… Not sure how you can deny that Sanders couldn't stay healthy, that one seems to be a no brainer? I agree the rest is speculation, but Cobb kept finding himself out of position a lot and with a new defense he might not have been the best fit. Jabbar was just rumors and was supposedly part of the reason he transferred along with getting a bag from Washington. But we can count him in the possible starting loss.
Let me get this straight, Sanders couldn't stay healthy, so we have to discount him, over Alan Bowman? The guy with two ACLs Or Garett Rangel? who? who in our team would start over him currently?
The media does not give all big 12 second team to someone who kept finding themselves out of position, a lot.
If you say stuff like Cobb, Sanders and Jabbar wont start for OSU, it makes me take you less seriously.
Regarding the comment of Jabbar moving to Safety. I doubt it would have happened because of a demotion at CB. It might have been that he was our DB with the best coverage skills in the middle of the field. I don't know that to be the case, but it wouldn't surprise me if the coaches felt they could slot in Cam Smith on the outside and have Jabbar provide quality relief in the slot.
That happened few times last season in games, mostly because JT II was out/injured I think, there was no one to cover the middle of field. But dont think Jabbar is losing his starting position to no one.
Sanders has not had a fully healthy season going all the way back to his high school days. Not sure how saying a guy is not on the field means I am discounting him. You are not on the field you are not helping your team, end of story. That is all I am saying about Sanders.
I also am just saying it was not a slam dunk that Cobb or Jabbar would start, it is a new defensive scheme with a new DC. Thus everyone's jobs are up for grabs.
Carry over from the other thread related to our new WR Bruce. This is how I picture @Helper any time Bruce catches a pass next year.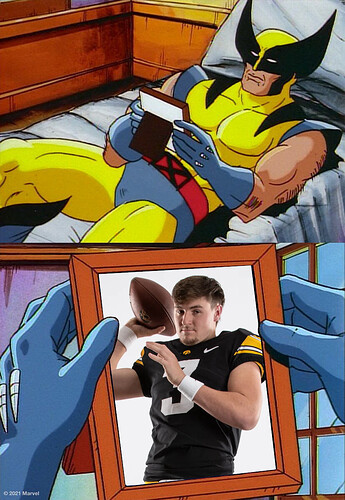 Very proud of you Gary.

I can't take too much credit for it as I had to outsource the work to someone else.

And someone in here may have shared this a long time ago. If so, I apologize for stealing their intellectual property.
Keep digging in on these bad takes. Maybe they'll get better if you just keep going!
Not sure how saying a fact is a bad take. Sanders has been hurt a LOT in his career. That is a fact.
Wrong jersey. And I love Bruce. We met at a potluck one time. Told me his social security number.
hell ya let's file for some insurance
Short stint at Coffeyville.
Luckily he wasn't 110% committed to them