Any one here big barstool people?
I think Barstool is annoying.
I'll sit in them but I prefer a normal table chair.
One bite everybody knows the rules. I enjoy barstool. But understand why others don't.
I really enjoy the one bite stuff Dave Portnoy does. Pardon my Take is a podcast I really enjoy as well.
In this case, is that a good or bad thing?
I don't think it's a bad thing at all.
Barstool does some funny stuff. They're a bunch of yankee loud mouths, which is really annoying, so I don't listen to any of their radio shows… but they bring a lot of good content to Instagram.
Because Dave Portnoy is a misogynistic piece of absolute crap, among other things.
Ok

hope that made ya feel better buddy.
Scott, not today man. Don't give me the sly one-line responses that belong on trolling Twitter.
Portnoy has proven time and time again that he's a sentient trash can. And he treats his wife (ex-wife?) like crap.
Would you rather me do it on Twitter?

Idk if he's a bad dude or not, but he built a product that is entertaining and not run by ESPN.

Separate the artist from the art kinda thing. I don't tune in to barstool just for Dave. I think his pizza reviews are funny.
They have done a fantastic job building a great business out of nothing. I love Big Cat. A lot of their stuff is annoying, but I certainly appreciate the non-ESPN option.
Speaking of Big Cat just noticed a Gundy shoutout in the faux-SI college football preview for his EA NCAA football career! Pretty cool.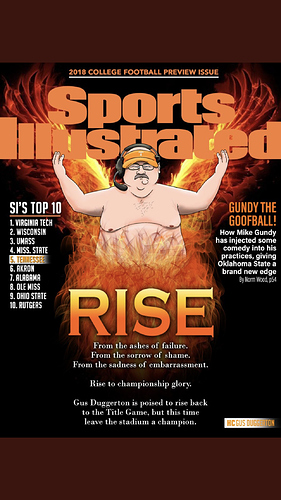 They've had some pretty brilliant ideas on the content side (Coach Duggs and Joey with the Ed O impressions being at the top of the list), but in general i don't really follow their stuff for exactly the reasons @TheHeadChimp described.
Yes, and make no mistake, I don't deny their popularity. It's high. But just not for me.