Can't remember the name but there's an incredible Latin / Guatemalan brunch spot in the area.
Not sure where it is from Bush, but try to find a way to get there and have the sliced brisket
Guatemalan food is very mid.
There's a YouTube channel, I think it's called you suck at cooking. All the garbage cut out, information, and pretty funny.
Next time you're in town try out cafe Kacao. It'll change your life.
I think. Maybe. Idk.
I'll have to check that out!
My mom's from Guatemala, lol.
Oh.
Well, everything's Americanized here anyways.

I love You Suck At Cooking. Funny stuff and no bullshit
His channel is great! I watch a lot of cooking YouTube lol
I couldn't disagree more.
Planning on stopping by Wednesday while trekking to Hinton, Merica.
@Borelan57 is doing it right at Outpost 36.
Good BBQ and thanks for the Tour.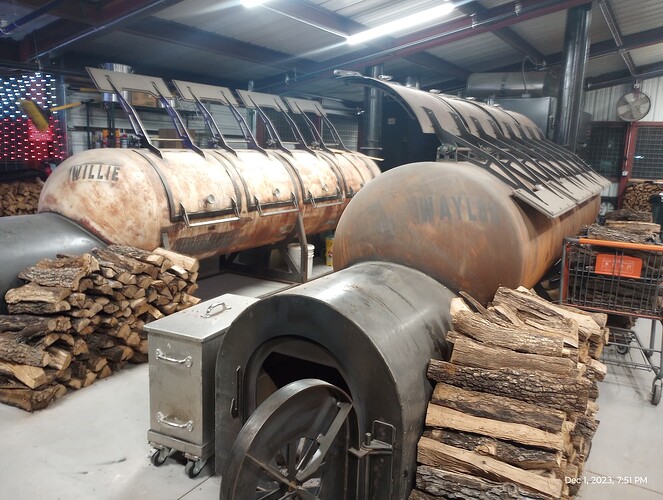 Thanks for coming by! Was great to meet you and the crew, show you around, and of course talk about the game. Sorry that longhorn fan kept coming up and talking to you, he will quiet down tomorrow. Go Pokes!
@Borelan57 the food was great! Within our group had the sliced brisket, chopped sandwich, ribs, jalapeno sausage, bourbon burger, Mac, cream corn. All really good!
Probably for the best the game wasn't on. Would have ruined everyone else's appetites
Sounds like a 50 megaton heartburn bomb.
I didn't eat all that! Those are the things our group got. I would have died right there if I tried to eat that. Then he would have had to shut down. I don't want that, the food was good!
Plus I now want my own 1/3 size Waylon or Willie for my house!!