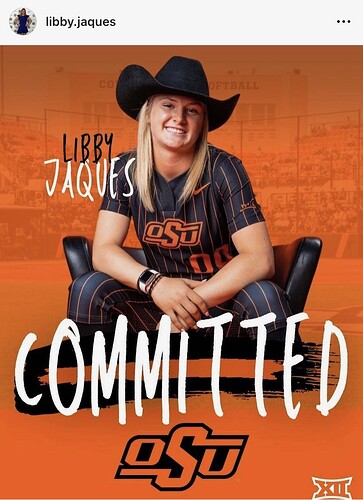 My boss sent me this, his daughter plays basketball with her, not sure if this was already known, but thought I'd share.
Here's a bit of detail about Libby:
"Speedster Libby Jaques (So.) is a three-sport athlete in softball, basketball, and track. Jaques always contributes to her team and can show off her speed running bases and has great power at the plate."
"The versatile Jaques can play just about anywhere, and brings a .494 batting average in 79 at-bats with nine doubles, seven triples and 12 home runs, along with a .984 fielding percentage."
I can't believe they still have those and are trying to sell them.
For a humorous promo, they should staple a $5 bill on each shirt and sell it for $3.
Looks like a bunch of commitments announced
@AllisonMc they any good?
Was coming to post the same. Kenny pulling in cruits despite the terrible football game they all had to watch

Well I'm off Twitter for the time being, but if I have names I can check them out. I can't believe they aren't high level with the way he's been recruiting.
Montgomery Henderson
Jayelle Austin
Gabby Castillo
Makala Smith
Burn them. Kids in Africa are struggling enough without having to wear that sh-t.
Also Libby Jaques
Edit - looks like they hit the Houston area hard. As they should.