Sorry, but you're not going to steal @brooksM's position as President of the Katie Lott fan club. Nice try though.
I'm pretty sure we currently are the team with the record for most WCWS appearances and no championship. It was Florida State until they won in 2018. That record seems about right for OSU. In the 90s when we were so good basically only Arizona and UCLA were winning them all, and now when we're good again, it's stupid OU.
You are correct. I maintain a Softball Ranking spreadsheet with points awarded for post-season appearances and success by era (older results receive lower point allocations). You can see that OSU is indeed the highest ranked team without a championship (top 25 listed).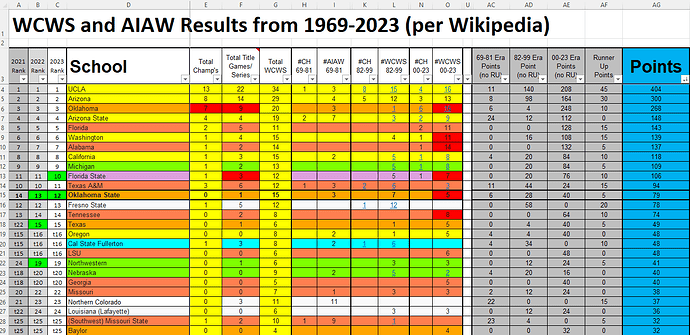 Clearwater schedule!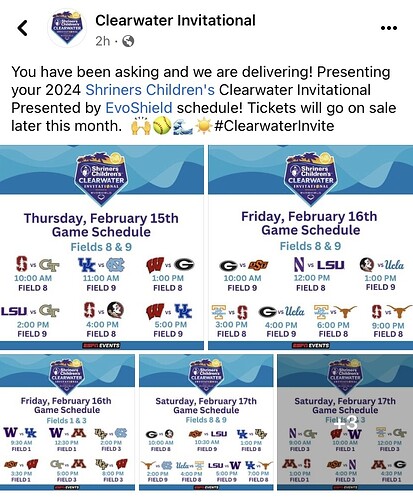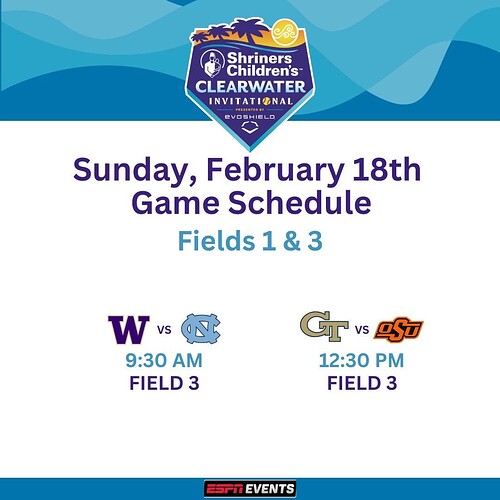 Not as easy to see on the top picture, but we play Georgia and Wisconsin on Friday, LSU and Northwestern on Saturday, and then you can see Sunday better. Good competition.
Blockquote
https://twitter.com/cowgirlsb/status/1729226672761970775?s=46&t=Kr-MRGz89gYcOODj5y2zpg
Awesome schedule again this year!
Spending almost all of Feb in California and Florida. I'm very jealous

UCLA, Georgia, Northwestern, Washington, LSU in the opening month is awesome
Kenny G aint scared of anybody
My only complaint is that the new conference schedule keeps us from scheduling a home and home weekend series with teams like FSU.
It just dawned on me that we should run shop in this league now.
Arizona, UFC and Utah are all good, but certainly not near the level of OU
My very not bold prediction…softball will be the first sport to resume bedlam. Kenny wants that series and I don't see the admin getting in his way to stop it. It will be up to Patty.
Connor McGregor playing shortstop?
What's your early read on this team, @AllisonMc? Did you get to watch any of the Fall ball games? Seems like we should be due for a rebuilding year, but I'm not sure Kenny G subscribes to those.

I have full trust in Kilfoyl keeping us in games that she starts. Going to be interesting to see how Aycock has developed, and if Kutz is ready to play at this level.
I'm late to this thread. This might have been discussed at the end of last season.
I felt like down the stretch Kilfoyl was better than Maxwell. I'm by no means a softball expert, just love the sport and grew up watching my 3 sisters play, but it seemed like Kilfoyl's placement was better consistently.
This isn't a knock on Maxwell for leaving either. I texted my OU softball buddy this during the WCWS and he agreed.
Sorry for just getting around to answering this. I did get to watch a game this fall. It's so hard to tell much in the fall games because they rotate people in and out so much. However, I think our defense will be just as solid as last year, and there is a lot of young offensive talent.
I think Lexi will replace Kelly as our ace just fine. She had just about overtaken her by the end of last season anyway. If Kyra can make good strides, I have faith in her to contribute a lot, and I really think Katie Kutz is going to be ready to contribute immediately. She looked good in the fall.
Basically, while the team is young, I think they're so talented that the team won't drop off as much as some might think.
We're going back to the WCWS. And it'll be 2 Oklahoma schools in the championship series. Count on it.