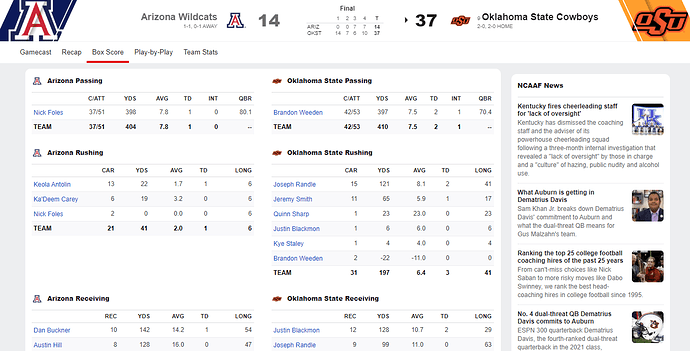 Joseph Randle was a yard away in this game. The closest I've found so far of the 100 rushing yards and 100 receiving yards in a game.
Kyle, thanks for putting this info out. I once used it as a sports related question on a flight where the pilot was asking if any passenger had a "stump the flight crew" question. They had never heard of this fact. The OSU Players Card had Hudson winning the NCAA rushing title. The fact that Lewis played in 12 games and Hudson played in only 11 might have played a part in their missing the fact. Back then they did not count bowl games for final statistics, so maybe the card printers thought Lewis's numbers included a bowl game…they did not. That year OSU played in 11 games and A&M in 13 counting their bowl games. So, Lewis had one extra game for his stats.
OSU only played in 11 games that year. They did not go to a bowl. TexasA&M played 12 regular season games because they played at Hawaii, which is an exemption game they also played in a bowl game. NCAA rushing champion is determined by rushing yards per game, with the player playing in at least 75% of his teams games.
I'm curious which game it was that Gerald Hudson had 100 yards receiving and rushing in the same game. That is not mentioned in the post. I tried to look it up, but was unsucessful.
it was 1989 vs Kansas. Hudson has 108 rushing and 113 receiving thanks to an 84 yard pass that he did not score on.
If you are correct and it is per game yards that count, then Hudson was the 1990 NCAA rushing champion. He is ahead by about 10 yards per game. So the player's card was correct after all.
Yes. I remember the 1990 season well and there was no doubt that Hudson won the rushing title. Look up players today, Chuba won the rushing title based on average yards per game not total. Although, he would have won that as well.