I've just accepted the glitch.
I have accepted it as well
What platform do you all use to access the site? I have never had any issues on my phone.
Hmmm
I use chrome on an android
Chrome on Android as well. Ads with all of the site stuff except the chamber. Also didn't see a place to "log in" to see if ads would go away
@MiggityMac Ads are pretty bad on chrome desktop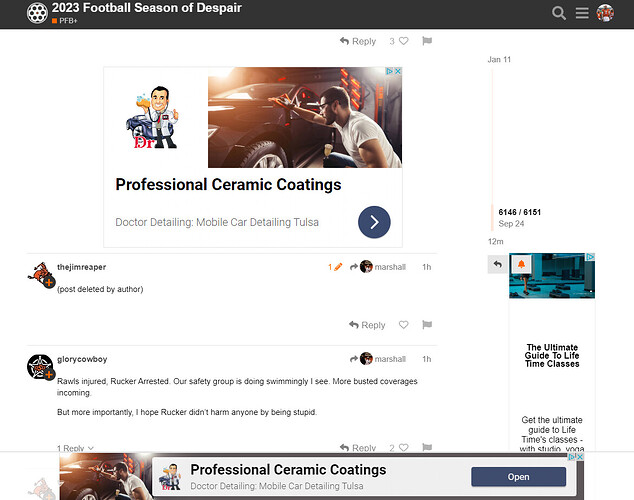 Howdy, y'all! I've been fairly silent as I tried to be heads down on getting this ads issue fixed. I think we might have done it. There was some code in the forum that was being delayed as the website loaded - it was very difficult to find. That code is meant to check our PFB+ memberships and then nix the ad segments or display them. We now prioritize the loading of our membership code in the loading order.
With so much traffic, it will be difficult to determine if this squashed the bug - mainly due to individual browsers holding on to cached website code longer than needed. I will do my best to clear the entire forum cache so that everyone gets the latest greatest code on their next visit. Fingers crossed!! I'd say if things don't straighten up in about 24 hours, ping me and I'll get back to the 10yd line and try another kick.

Current state is much better. Appreciate the hard work
You bet!!! My pleasure! I also appreciate the quick feedback. It lets me know if I nailed it or not.


Yeah, things def seem different, in a good way.
@MiggityMac The whole site is running better and I have no ads. You're the best! Thanks
@MiggityMac when are we going to get the articles where we can comment on them ? Very very few am I able to see " start the comments " below the article ?