The cure is easy to explain. OSU has THE smallest recruiting budget in the Big 12. Take a fraction of what we get every year from the Big12, bump up the budget so that we always have the 3rd highest in conference. We can and should be doing this. Take 1 year's $$$, last year was about 38-40 $million and pay for a wrestling facility, break ground on it tomorrow and let's get on down the road. This makes WAY more sense than bashing HCMG!
First, OSU should recruit better, but that is a simplistic view.
However, to discuss recruiting and not mention budget for recruiting or OSU football overall is lazy. Especially if you mention schools like OU or Texas who are top 5 or 10 in athletic revenue.
Where do they compare to schools like Baylor or TCU? Can't spend money you don't have. From what I know, Clemson is the biggest outlier in football recruiting. They have been out recruiting their financial standing.
Lastly, I know people will say, "Boynton is recruiting well." Which is true. However basketball is a much different animal. 1-5 scholarships available each year to fill 1-4 different positions (15 players total) Football is almost 20 different positions with 25 scholarships to fill (80 or more players total). It's easy to make comparisons between the two, but they are much different. So, all that to say, recruiting is as much a Holder issue as it is Gundy.
Holder issue haha why. He's not out recruiting kids. Guess what? We recruit elite talent in basketball, golf, wrestling. I don't expect to recruit Top 10 classes since football is different but I do expect at this point when Gundy finishing 2nd in the Big 12 over a decade. He needs to sell the heck out of the point. 2nd over a decade. 2nd over a decade. 2nd over a decade. One more time. 2nd over a decade. Make tee shirts- tell every recruit that stat. Use it live it man. Gundy is an average recruiter at this point I think.
I believe Top 25 to 30 classes should be the expectation at this point. That is very reasonable.
incorrect Bob. We can't just go do it. We have a budget and have to stick to it . We take in average money. It's not all about money though .Sure that helps but we just aren't good at it. Boynton knows how to recruit and is cooler to come play for. That's just reality. He's a better salesman than Gundy. Gundy is a good coach and has sold our program better than alot of other football coaches but he's an average recruiter. That's just reality.
Holder sets the budgets. OSU has one of the lowest recruiting budgets in conference for football. Hence, it is also a Holder issue. Have recruited elite in basketball for what, 1-2 years? Golf has been an elite program for 20+ years? Wresting is the best program ever, and coached by one of the greatest of all time. Football has been good/consistent for a decade… again hard to compare those.
Like I said, football should recruit better. However saying it without looking at the financial facts is nonsense. So is comparing it to sports with different financial structures, history, and structure to recruiting.
"It is perennially outclassed in big games as favorites at home"
Yes, we've lost some big home games as favorites. The 2017 losses sting the most (albeit I think the double OL injuries before the TCU game had the most to do with one of them). But the stat in this pic from ESPN would at least indicate our ability to win big games despite our recruiting rankings, agree?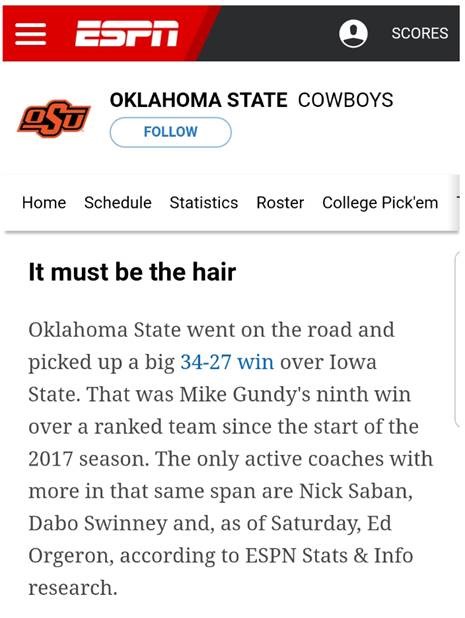 Exactly, 9th wine over a ranked team since start of 2017. Imagine what could happen with better talent?
Dollars won't win recruiting, though they help. If the people behind the dollars don't forge relationships with the talent, all the while identifying who fits the Cowboy Culture, then more $$ won't solve the problem.
The same Cowboy Culture that wins on the field with inferior talent needs to win in the recruiting wars…and that's just not happening right now.
I often wonder though…if the measurables all being equal (height, wt, 40 time, etc), isn't then the most important variable then the culture of each kid and how his intangibles 'fit' the culture into which he is coming? Humble, hungry, smart…to quote the great Patrick Lencioni. Give me a team of those guys and they'll outperform a lot of higher ranked 'talent'.
However, if the measurables are different, even with great intangibles (football IQ) & team instincts & players…well, that's tough to overcome.
Great article! You absolutely hit the nail in the head!
Article was correct on some things but completely incorrect about outclassed in big games at home. That's just not true in general. In 2018 yes because our team wasnt' that good with Corndog. However outside of Corndog year and rough Defense that year to go with it. We have to be fair to Gundy. That is simple untrue statement in this article.
This site has to quite negative recruiting against us and Gundy. I'm being critical of Gundy's recruiting a bit low also and that is fair. But this article goes too far. Does OU beat us generally yes that's true but they are top 5 team most years and beat most Big 12 teams. Sucks but true. In 2017 we were a drive away from beating them at home.
He's turning into Bill Snyder Lite. Year by year, day by day. Making a Bowl game is good enough and the "do more with less mantra" will allow you to compete 1 in 4 years for a conference title.
Shoulda woulda coulda wtih 2017. Gumby loses a bad home game every year. It is tradition at this point.
How many programs would keep a running back coach who can't recruit? How long has he been here and how many yards have his guys produced? He completely whiffed this year. And please don't bring up Ngata. He hasnt mentioned us in a month on his Twitter acct.
Factor in our renowned cowboy back position and you have two full time coaches who produced one athlete this recruiting cycle.
Gundy simply can't admit he made a mistake in hiring these two guys.
Gundy's recruiting is closer to Kansas than TCU.
Good points Chris. Some of the writers on this blog tend to have shallow takes on topics based on feelings and notions rather than facts. Does Gundy need to recruit better? 100% agree that he does. But the notion that we are generally outclassed at home is nonsense. The facts simply do not support it. Period. Again, all of your comments are right on point and glad to see others with reason. I really hate what our fan base seems to be morphing into. It is not a good look.
i'm on board with this. i feel like Gundy doesn't like recruiting and the results reflect that.
We usually have excellent talent at the offensive skill positions, but when one or two of them go down due to injuries, we don't have 4/5 star kids on the bench to plug in like the OU/UT's of the conference.
but being continually out-recruited by BAYLOR (?) who was flat on the canvas counting the lights just 2 seasons ago - is puzzling and concerning.
I know in advance I will be crucified for making this comment…I'm prepared so just bring it:
1.Shoulda-Woulda-Coulda seems to be the recruiting mantra for football staff and fans
2. Frankly, there is NOT a single piece of logic out there that 'holds up' under deeper analysis
Surrender to the valid criticisms that Gundy and his recruiting performances and acceptance of mediocrity is pathetically disgusting for anyone making $5M a year
Fans - Boosters - AD should be on Gundy's A** till he produces regular top 25 classes …I am sick of seeing his laissez-faire results every year …Wozniak & JBC in particular
I think we need to get very aggressive with athletes in the transfer portal we desire to be Cowboys. There are so many good proven athletes that could help us. Is Clay from Arkansas being recruited again?
Right now TCU has 5 four stars in one recruiting class. "5"!!!
I've been saying it every since the ending of the 2013 season. The 2014 season further proved why OSU football coaches needed to recruit better.
This football program isn't getting back to the 2010-2011 type seasons unless Gundy starts hiring known coaches that know how to recruit and properly game plan. Gundy must also stay out of the game plans.
I felt like OSU had that with the assistant coaches they had during the 2010-2011 seasons. Gundy needs to go back to what jump started the incline of OSU football from 2005-2011.
Some of that was due to better recruiting results. Some of that was also due to hiring coaches that recruited well and what needed to be accomplished at this collegiate level. I don't feel player development is stronger than it was before.
OSU hasn't had an offensive lineman drafted in a decade. It's more than just recruiting well at the skilled positions and development of your non skilled positions. Recruiting has to be be well rounded so the team can be efficient as a unit. They also need to have coaches with D1 experience for proper guidance. Gundy has gotten away from that.