Ugh. I bet Gundy never throws him the ball once.



At least were not worried he can punt.
Hope he passes like hutton. His rating as qb is 268.
I'm sure he'll make us forget all about Hutton, you know the guy who drops the ball the same way, i.e. incorrectly unless you're going for height instead of distance.
Come tea town you killing me. He is not the only aussie you can attack.
Not sure what you're on about, mate, as we say in Oz. I like Aussies, I just don't think Hutton is that good. If he would learn a proper drop he could be GREAT! His are always front nose DOWN, which is the way you want to do in a short situation near the goal line to get a lot of lift,
Yea thats were we punt alot. But he hardle get any returns. Had what 1 over 10 yards in 2 years. Like 6 fumbles and a pass. Great cowboy.
As GSP once said, "I am not impressed by your performance!"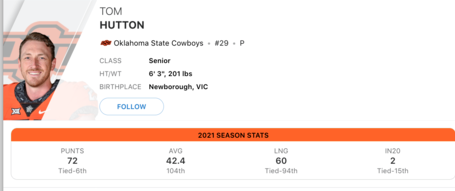 In side the 20 stat is funking only has 2 ( wrong) thats tied for 15th( which is probably true). And what im most interested in, they didnt put, net punt.
Hutton didnt kick alot of punts deep in his field. If you punt from the 50 you cant get a 80 yard punt.
Maybe this aussie can over kick his coverage for big average, but lil net.