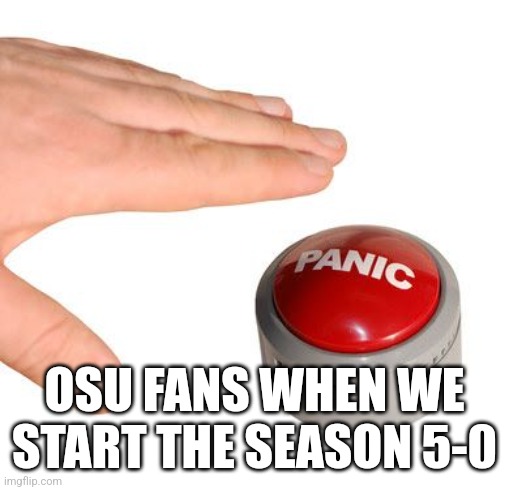 Change it to "When OU starts conference 0-3…"

No. It's just everyone going negative after we won a game. I get that there were some issues in the Tech game, but there were some high points too.
99 times out of 100 we lose that game coming out flat off the Baylor high. Not to mention Tech used their back-up whose team played well above what they have all season. Only championship caliber squads find a way to win those games. We are built for rings.
I'm not ready to call us champs, but I really don't get doom and gloom off a win.
I can understand it. As we walked out of the stadium, I looked at my son and said, "We had no business winning that game." But we found a way. Dave Hunziker had a stat after the game that just floored me. I can't remember exactly what it was, but it was some type of comparison in rushing yards or 3rd down conversions between us and Tech. He said,"If you'd told me this before the game, I would've predicted we lose."
Gundy was right. We outlasted them. Our run game got stronger at the end. Our pass rush got stronger at the end. Also, our special teams differential has been big this year.
It was rushing yards. 3rd down we wete 44% and tech was 33 %.
@jake4 we are going to get everybodys best game. We can look at stats try these we scored 8 times out of 13 times. Gundy is 16 and 3 with active big 12 coaches.
We have 2 unit that are top in the nation. Dline and special team. We tend not to get flags.
The defense held tech silent with back ups at the end.
Our secondary is suppose to be week. Ksu is thought to be good. They gave 350 to up and tech. Still gave up 250 to isu.
Of course we can lose were undrr dogs this weekend. We got a few injuried. We come out hot and stop the rum we should be good.
We are going to get everyone's best that's for certain .
Is there any news about that transfer RB ? Would we sit him or let him play 4 games or what if he came back this week ?
Every game we get our young rb room a little experience that's gonna pay off . Our hall security so far has been just ok .
The league is great this year with ou down and Texas so so.
Very anxious to see the injury report
Questions you got to ask is ku defense better then us. How good is tcu defense. They will try and spead us out. Watch out for flea flicker.
I think most of the injuries are ankles. Someone side jonhson is out with his headache. Black mite be since its a hamstring. I think he got that 2 weeks ago. Overall the back up did well.
Gundy had a press deal said all the players should play.
At least they wait to lose a couple before they go nuts.
Our version of "going nuts" and theirs are two different animals. We only want one coordinator gone per game.

They are ready to fire the head coach and both coordinators yesterday.

I saw people calling for Mason and Dunn in a 2 score win and there's the Always Fire Gundy Club.
Mason and Dunn at the same time?! Let me guess…First half Mason, second half Dunn?
Just think if Joe had been here