One horn up to Texas! The Texas softball coach "losing a horn" (flipping bird at the ref) is still the best Marshall quip of all time.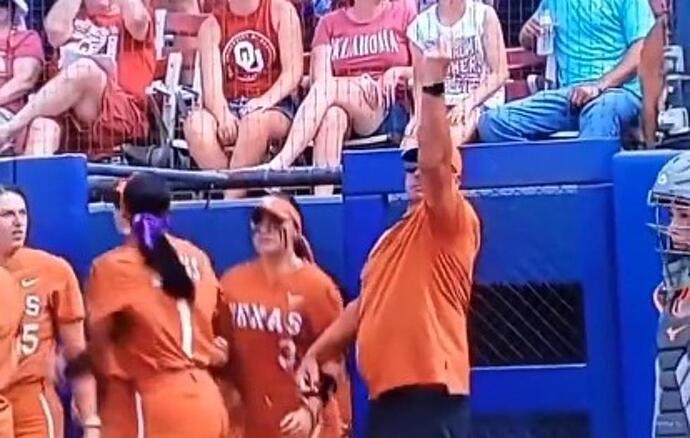 Just bought the 5 game ticket pass, see ya'll tomorrow
awesome to see a bunch of you are gonna be there tomorrow! I need to get to a game in GIA sooo badly
Huge game. If we win this our season trajectory changes drastically.
I guess the good news is if we don't it really doesn't do much.
We need to get to 10 wins. It's a psychological barrier.
Big game today.
Feelin a dub.
Need to continue to hit shots and make them earn every point.
Putting O/U on TO's at 12 - think that'll be an important #.
And how well we rebound, they're pretty physical and have size in the post.
A win today would be HUGE, especially if we could use it and the WVU win to get a little momentum for the trips to Manhattan and Waco
They'd be smart to not wait until 12 hours before the game to post these.
True story but great promo.
Do these videos make anyone else sad? A rocking GIA will always be my favorite fan experience. As a kid with my pops it was insane. Then as a student for a year or two. But that died after my like soph/junior year (~2010). Freshman year GIA was packed. Lines for hours (overnight though I never did). And was deafening most games. I got that for about 2 years then it was hit or miss for a couple years then during vet school it was all but empty in comparison. So having been there to start with the rowdy and staying through the empty, these flashback videos bum me out.
To an extent yes because it's my favorite place in the world. But I think we should have a good crowd today.
■■■■. I can get there 45 minutes before a tip off now and sit courtside, that's actually really sad.
My one thought last week in Lawrence was that I think we are turning a corner on offense with better shooting. Obviously shot 3's better but I wasn't cringing at the free throw line either. Just felt more confident about shooting overall and once you start shooting things open up and people start moving through the offense quicker.
Also I think BT goes off going forward
BT and Cisse playing themselves into the NBA draft this year would be fantastic.
Nothing ever will beat a full GIA. I do not care how loud BPS gets it will never touch GIA. That place full and rowdy is the most memorable OSU memories I have. Special place.