Another week, another giveaway thread. We're going to start giving away PFB store credit every Friday as well. To enter to win this one, all you have to do is go to our Apple podcast page, leave a review and screenshot it in this thread. You will have to do this on your phone as Apple won't let you leave reviews on a desktop (??).
For example – I am not Feller11 – but if I was, I would upload this comment and be automatically entered to win. We'll give the first one away on April 10. Let's go!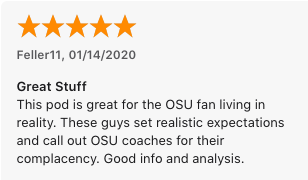 If you haven't registered with PFB, you'll have to to comment on this thread. You can do so (for free) right here.