How many touchdowns will OSU win this game by?
Kansas State may only be playing 8 guys (as they did last game due to injuries/COVID). OSU averages about 10 more rebounds per game. As long as Cade and Kalib don't foul out OSU should win handily.
I'm going to be optimistic like David and say the Pokes open a full game of whoop a$$ because they are pissed about the WVU game and take it out on KSU.
They use this to make a statement early and get more guys involved a LOT in the second half.
Win by 10+ and TRY to carry the momentum into Tuesday night vs Kansas and into next weekend for Bedlam. Find our 3 point and FT game!
Don't trust this team, but KSU is bad. We will play down to their level, but win 72-67.
Pokes 84
The Purple Pussycats 71
Texas, whom we lost by three, only beat WVU, whom we also lost to by 3, by 2 in Morgantown.
Ok? Your point being? I think UT was favored by 3.
Does there have to be a point?
It seemed like you were trying to make one, but I guess not. Apologies
Watching the UT-WVU game made me feel a lot better about our team. That was a legitimate top level college basketball game featuring two really good teams, and we went toe to toe with both of them and only lost each game by three. If this team can just improve some small things here and there, we can absolutely beat anyone in the Big 12.
TCU giving Baylor a fight
Edit: Not anymore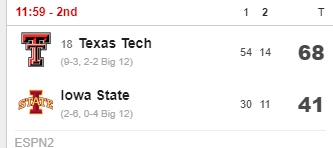 Confirmed - 6 scholarship and 2 walk ons for KState