Tied for the second worst national ranking in Gundy's tenure.
Cincinnati signed 3 four stars.
Maryland signed 1 five star.
ok but our transfers are pretty huge. I don't see any other big 12 schools who got transfers who are type of guys we got in the transfer portal. and that will be even more pronounced if we get Christian holmes and dee Anderson.
Josh Sills and Collin Clay have power 5 playing experience and have the frame of P5 developed athletes. I'd say they're both worth 4 stars. Sills was an all big 12 lineman
I agree! To your point, quick glance shows Texas and Baylor with no transfers. Here are OU's and TCU's.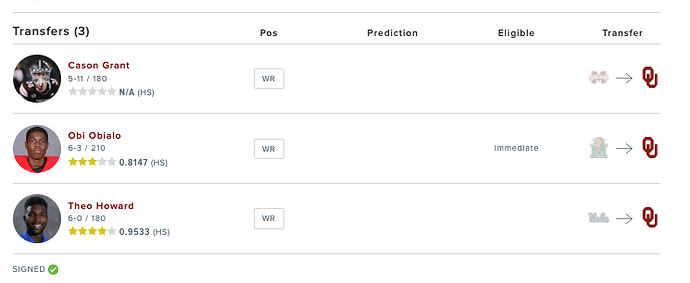 yep so, I've accepted we're going to get outrecruited by OU, that will not change for the foreseeable future. But if they re-evaluated our transfers and included them in our recruiting score, I am 99.9999% confident we would be 4th at a minimum. I'm not sure we'd pass TCU to get in 3rd, but we might. We have more quantity and assuming those transfers were now considered 4 stars or high 3 stars, I think we'd be pretty close with TCU. OSU finishing consistently 3rd-4th in the Big 12 is pretty good.
Given our coaching staff has proven they can win with less talented players…a 3rd or 4th ranked Big 12 recruiting class is plenty good to win a conference title every now and then (not every year like a blueblood). THEN once OSU wins another conference title or two, I'd expect a bit of an uptick in recruiting where we consistently finish 3rd, still behind OU and Texas but not quite as huge as a gap.
Then perhaps competing for conference titles could become even more frequent then every 4 years or so, which recruiting would continue to build on until OSU potentially MADE (not wins) the playoffs. THEN a playoff appearance would…you guessed it! improve recruiting to where OSU would win more conference titles and perform better in the playoffs.
TLDR - As long as OSU has the players to win the Big 12 every now and then right now…we're in good shape. If OSU won another Big 12 title or two in close proximity and recruiting didn't improve, then I'll be a little more concerned. It's a tough long process for non blue bloods and Thayer Evans made sure it would be a little longer for us.
It would be interesting to see if certain positions (QB, WR, OL DL, etc…) are more likely to live up to their stars than others. I guess that would boil down to are some positions easier to accurately predict success than others.
TCU Breakdown
3/5 4 Stars for TCU didn't come from the state of Texas.
10/18 recruits not from Texas.
3/18 from Oklahoma and all three in the top 15 for the state (WR, QB, RB)
Doesn't fit the location narrative that gets rolled out every year.
Isn't there a limit of 25 signees per class? How does K-State have 28?
In some instances recruits can count towards a different class signing.
That's quite a dream but since he won the conference his national rankings have taken a nosedive.
The QB transfer was a HS 2 star recruit just like Dru Brown. If he plays it won't be a 10 win season IMO.
I was more referring to Collin Clay and Josh Sills. And Dee Anderson and Christian Holmes if they do end up coming here.
See "Thayer Evans" and "Dirty Game" scandal. OSU has still had teams that were in position to win the Big 12 since then
I can provide the ranching engagement data, but can you add Gundy's historical salary data for reference to recruiting results.
You can have to have an average of 25 over 2 years. So you can make up for last year if you only signed 22.
It's not an incorrect narrative at all. The 3/5 guys are all defensive guys which is Gary Patterson's specialty, that probably has more of a role than what you're leading on. Not to mention this is the smallest class they've taken for awhile, which means kids aren't transferring out. The previous year, 2019 class had 14/26 guys come from Texas, with 1/3 4s being from Texas, the other being a QB, which is a position that is recruited nationally now, and no longer a local one. 2018 - 2/4 4s from Texas 14/25 from Texas. There is definitely a locational advantage.
I enjoy the discussion and appreciate the data. Here is where I am leaning.
If there was a locational advantage IMO they wouldn't be signing so many kids from outside the state of Texas IMO. The Metroplex is a huge hot bed for football recruiting and the only local P5 team signed 27/45 players from Texas in 2019-2020. Of those 45 there were 7 transfers and all 7 from Texas. 20/38 new recruits from Texas ( 52.6%) in a 2 year period. Yet none of that stopped them from averaging a top 30 class the past two years. TCU has #3 Big 12 class every year since 2016.
TCU recruits from Texas
2016 14/22
2017 12/24
2018 14/24
2019 15/27 (4 transfers from Texas HS/JUCO )
2020 11/21 (3 transfers)
66/118 (56% from Texas)
52/118 (44% not from Texas)
OSU finishing 3rd would be great, but they don't. That is the issue, no one expects them to beat OU or Texas in recruiting, it will never happen. But NEVER being 3rd is alarming.