I don't even know where the state of Idaho is located on the US map.
Famous for potatoes.
Three more fun Idaho facts
Boise was ranked the most overvalued housing market in US in January 202. Place is growing like crazy.
Boise State University…home of the Smurf Turf. I've stood on it.
Eddie Sutton got his 1st college head coach job at University of Southern Idaho, 1966-9.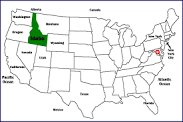 Between Washington and Montana
Idaho is a beautiful state !! So many streams that run through towns with great climate. Mostly republican state. Great mountains !!
Learned something I didn't know. Dunn was an All American !!!
Get these two Coach !!!
Only problem is the California libs have rude that state and their moving in lol
There was a resolution presented to Idaho legislators for the bottom half of Oregon that is republican to secede to Idaho back a few months ago. Don't know if it got anywhere. Who wouldn't want to move out of that chit hole California

@tai surely you've seen the Idaho potato commercial on tv and him delivering all over the states


Yea these are the ones smart enough to move out. But still want to crap at home. Dnt were about changing the litter box we will just get a new one
Problem is most want to move where it's cheaper living and far less taxes but keep their liberal ideas


Please tell us you went to zerOU then, LOL!



Full disclosure: I did for a semester and the #1 thing I learned is that it wasn't the place for me nor anyone who's not seriously into the Greek thing.

Look at Austin.