Bowman - Rangel - Gundy - Flores. HCMG won't say it, but I will.
We all already know. The third string Michigan QB already has it.
Yep I got the impression from that pod cast the other day with HCMG and Dave Hunziker that Bowman was the man as he is the only one with significant under center experience.
After 18 years we are struggling to find a QB1. More incompetence from the head coach.
There is essentially 0 chance it's not Bowman.
We did have a QB1. The HC pretty much told him to kick rocks and his services in Stillwater were no longer needed. I'd take his advice too if he doesn't want to provide an offensive line to protect my shoulder from being busted up worse than it already is. We now make third stringers from blue bloods our starters now.
Sanders was good for 1 TO per game. Nothing else. Gundy should have been fired for keeping Sanders as the starter. It actually makes sense that Sanders is 3rd string at his new team. Pretty much proves your point that we only have 3rd string starters from other conferences.
Well according to GundyClappinHoes he thinks Bowman is going to drop over 30 touchdown passes and have less than 10 interceptions.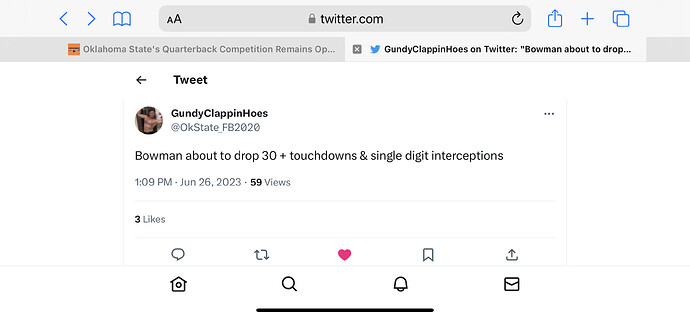 Who is going to protect him in the pocket?
Exactly!!! Dude's head is more than likely to get decapitated instead of doing that.
Well Bill18, Maybe the former qb3 at Michigan will do better than the current qb3 at Ole Miss
Not if he doesn't have an offensive line and can't run.