I was extremely hopeful when I heard he had returned to practice. Hopefully brown is able to step up.
I've always had confidence in Brown, based off his Hawaii games alone, but also with how long he's been around here soaking things in. With that said, my main worry is making such a stark style switch this late in the season with an offense that's built around a running QB at this point. Hope the line can step up and give Brown the time he needs, since he can't just take off running when the pocket collapses.
Maybe this opens up the passing game for Brown. The Wallace injury actually helped the passing game in a weird way, and really got Stoner and some of the other guys going. This is different because Brown will be touching the ball on 100% of our snaps (c'mon Gleeson, prove me wrong with a chuba/LD wildcat package) but maybe with less QB run plays the passing game will have more opportunities. Or, maybe, it will actually help the QB run game if Ou and WVU back off of it due to Sanders legs not being there. I think this hurts Hubbard though.
It's not like Brown's a paraplegic- he's an athlete too. They don't totally have to abandon the idea of having a reasonably mobile QB and running some of those plays.
This could all be rumors, seeing as this team has had about a bazillion of them this year, but multiple people have said Brown wasn't much slower than Sanders running downhill. He's not as shifty as Sanders, but looking at his film and from what other guys have said about him, he's got some legs of his own. I bet he's faster than Brewer and Brewer destroyed OU early on with his feet.
I am especially curious to see how this goes. The middle of the field, short/intermediate passing plays. Actually using the plethora of wide receiver talent, and maximizing the potential for Chuba…
Is this the reason we're recruiting the 6'4" pro-style QB from NorCal? Is this why running QBs seem never to make it through a season?
It's like Game 1. BUT, having a 5th year senior taking 1st real meaningful snaps is VASTLY different than a RS Frosh.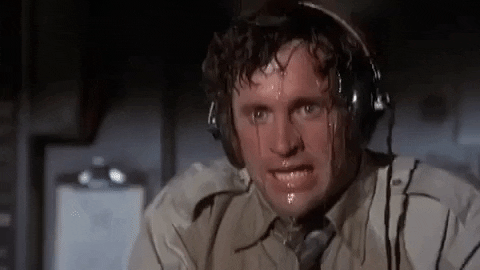 (trying to figure out how to post a gify…)
https://www.google.com/url?sa=i&source=images&cd=&ved=2ahUKEwisnbvhj_zlAhVRPq0KHfkZBjEQjRx6BAgBEAQ&url=https%3A%2F%2Fgiphy.com%2Fexplore%2Fnervous&psig=AOvVaw2ujPaQh00390WWwshLywtd&ust=1574453841889198
Also, Brown has some shimmy & shake to him. Very Baker-esque. If nothing else…bring on the Happy Hour Bloody Marys & settle in for a fun one!
@kyleporterCBS why is this showing that I made this comment? I did not.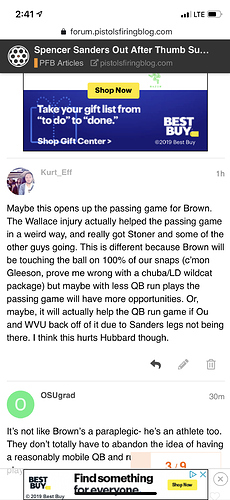 Brown doesn't have Sanders type running ability, but he does have some. Probably what Charlie Brewer had and we saw what that looked like against OU.
I predict they pass more and we see how good this team could have been without a turnover machine at the helm. Don't get me wrong, I like Sanders but he did cost us games and since then the offense has been dialed back for him. I think brown will be exciting to watch.
The weather might not cooperate with that game plan this week . We will have to see .
We heard all off season headed to the start of how much they were equally talented. I fully expect to see some good QB play and maybe less turnovers.
I have been anticipating this all season. I suspect it will be a run heavy game against WV even with designed QB runs. This will later force OU to load the box and inadvertently open the field for what has already been reported as superior passing by Dru. I think OU is screwed this year. OSU will win by 14.
I'm thinking the same. Use drew's arm as little as needed against WV, but enough to win comfortably and build confidence. And then go full blown playbook on no u. Bedlam victory!
We got it figured out. Thanks!