Yea dave and matt have more loses then weve played games
Texas is going to get their chit together one of these days. They got their qb back last week. Don't know if TCU beats them if he's playing
Baylor D looked like they were lost tonight. Broke several long runs on them
I tried to tell joy dave wasnt that great. And they lost to many play makers. Just need him to hlep us out by beating players up and win a couple of games
Didn't se it was on till second half. Shapen was taken out for something, on the sidelines the rest of the game. I'm guessing concussion protocol
Kill each other off hopefully we don't lose but one if that. I want to run the table. This is the year to do it
I have us losing 45-38. I think they'll be pumped in Fort Worth, and not having Daniels in the first half is going to have an effect on our tackling and coverage in the secondary some.
The only way I can see us winning this game is winning the time of possession and staying ahead consistently. That, and of course, equaling TCU in the turnover and special teams battle. I don't want our defense defending over 100 plays again.
Tcu doesnt play up tempo there like 70 plays.
We didt have Daniel or black.
If you think cu, ou and ku is better then us ok.
They have home field advantages and a good offense.
I don't think either of those teams are better than us, but I also don't think we're a team that's unbeatable by any stretch. We need to watch out for this guy: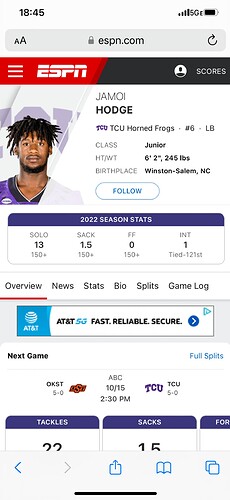 This is the same dude that injured Gabriel from OU and Daniels from KU. I have a feeling he's going to try and take out Sanders tomorrow if he gets a chance.
@bill18 Well it is college football. Anything can happen.
Our Dline is the difference in this game. We stay ahead of within a td till middle of the 3rd quarter, we out shape them. We have everyone we have played in significant games. JT will cover for Daniels till second half. We play better in games we are the dog in it.
That's hoping all the OL is starting.
Yes i dnt see tcu is any different from tech or baylor
Who cares how many yards tgey get a lose is a lose
Have they played any of the top half of the league… I know the goons were supposed to be but …
So the linebackers finally got a pick and that is something to recognize. That means windows are getting tighter for opposing Qbs. One thing that our defense has lacked from being a national contender the past two years is pressure up the middle from the nose tackle or two tech. Our ends are the best in the game and we are deep at that position. Need to be able to create push up middle and get lateral "quickness" to close up the gaps when ends flush the qb out.
Cowboys will find a way win the game. The secondary is coming along each week!