Only if there are no other options and would have be 16 teams in order to have a decent payout, which in all honesty would still be a massive hit to our athletic budget.
This would not be horrible. The AAC is rising athletically and is competitive academically. Looking at the Carnegie 1s and 2s, B12 has 6 tier 1s and the AAC has 6 tier 1s. Tier 2s has two in B12 and the rest of the AAC in tier 2. Cincinnati is on the verge of being an AAU member. Merging with them may not be the worst thing to happen. JMHO
Yeah it wouldn't be ideal but may be the next best option given the circumstances. I would be interested to see how much adding these teams would boost their revenue. You would also have to look and see if their legitimately going to add any PAC 12 teams. You could potentially see a merger between Big 8 PAC 12 and AAC. Combine those 3 leave the lesser programs out and that's your 4th power conference.
Please stop the OSU to AAC talk. I guess anything could happen, but it would an absolute disaster.
Thanks Texass and GoonerU in letting the other 8 schools have a heads up about this. Lots of repercussions for decades to come. Don't expect a good reference to the SEC from any of us.
Financially I think this would be terrible. Athletically I like it. It would still have a guaranteed playoff spot in football and likely get 2 schools in each year. It would be a lot of fun in basketball too. I would replace a couple of the smaller schools maybe tulane Tulsa or eastern Carolina with byu and boise to help Financially and reputation wise.
I think some version of this is our best option. I'd like to include BYU, Army and Air Force (national draws). I'd definitely get rid of Tulane, East Carolina and probably Tulsa (if West Virginia bolts, then keep Tulsa and remove Temple).
I think a 16 plus team conference will lead to an automatic playoff berth. The more the teams and the more the national presence, this could attract a partnership with Amazon Prime, Facebook Plus or Apple TV. Would love to never have to play on ESPN again - unless they have the playoff rights.
These schools and "super league" should never be mentioned.
Our recruiting would be in the tank and even if you had a good class to call in this conference you would get smoked in the playoff and probably have to play a 1seed every time you were to win this cream puff league. You would definitely have to win your conference championship to get in the playoff so no room for error. So if it's about money do what you got to do but as far as football goes it's a death sentence.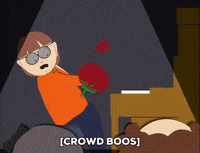 Unless your OU you have to go undefeated in the Big 12 to get in.
this AAC idea not only makes me physically ILL … it would be enough to make me loose complete interest in collegiate sport … OSU fans should 'think like the newtworks' … ask a single question! What move by OSU would create the MOST interest/excitement with the network execs … then aggressively pursue that input!
We won't be giving references. Whether or not they get in is dependent upon an SEC vote. Not to mention, everyone in their conference probably knows how we all feel about the Goons.
Trimming the fat should really be the schools that have little to no draw. USF and Temple play in NFL stadiums that look empty on TV. Tulsa and Tulane have HS sized stadiums. At least East Carolina can pack 50k in on game day.
Guaranteed playoff spot how?
The fact that we are sitting here and looking at OSU in a conference merged with the AAC should tell anyone with a brain on Mike Gundy's failures the past 10 years has put OSU football in this position.
You know why major conferences aren't going to extend a hand to OSU? It's because even with our best rosters we still can't get a W against OU and can't even make our own conference title game.
All the bragging about being a top 10 winning program over the past decade and no other major conference takes us seriously. Do you really still wonder why that is? I'll ask you a question right now. What major conference games or bowl games have we won over the past decade? There is one common factor to the OSU football program, and that factor is Mike Gundy.
Of course it doesn't help your program when your getting smoked on national television against teams that are better and not coming close to even beating or keeping the spread. I'm not even convinced that our football program in its current state would win in this conference even if it were merged. Because at the end of the day I still know who is coaching this football team.
Joey I thought u were in jail hadn't heard ur wonderful sorry thoughts about gundy. So did u get bail or was it just a public drunk thing
It's because I have a job. That job sometimes requires me to go to another state or internationally for some period of time. Do you know what a job is?