Yessssssssssssssssssss. And here I thought I was going to be bored today.
Be sure to get over to the Maven site and tut tut Robert Allen for reporting on this too.
Kinda upset it took 30 minutes for the first one…My popcorn got cold already.
Ahh, there it is. Welcome to the boards Susan1, I'm sure you will have great things to contribute.
If we fall flat in football we're definitely taking first in the debate National Championship. #Dynasty
Chuba might say you need to shut up about OSU football and do your job, whatever that is?
You would be offended at that. As you should be.
Sooo…
What I wouldn't give for Marty McFly to go back in time and make sure social media is never developed
I don't see you guys complaining about beating horses when we cover big wins from 393 different angles.
The Pokes are slowly turning into the Steelers in terms of drama lol.
He didn't lose any, he was benched in the game that he was already put away, there was a huge drop off after him at RB.
He was benched during the McNeese game last year after an early fumble (which he recovered). He only had 8 carries in the game. Also, he was the best RB in the country last year, so maybe he doesn't get benched because he is worlds better than any other RB on the roster and taking him out makes the team worse?
Come ON man. If you are going to be 'freedum, also shut up and run the football like a good little boy' guy, then at least don't trot out a…FOOTBALL reason why … Chuba Hubbard should be benched? Like I want to laugh but I can't.
Just sack up and say what you mean.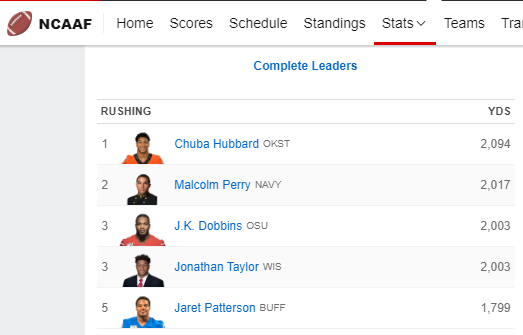 Chuba is free to say whatever he wants, even though technically he is a guest in this country. I hope he just realizes that things he says can lose him fans and cause his draft stock go down. Actually, I think he may have realized that today.
I'm very interested to see where Hubbard's head is in regards to playing this season now. I guarantee that all of those people screaming for "deportation" were the same ones cheering and RTing his return announcement back in early spring. While I don't personally agree with the theme of his tweets, he has the right to say whatever he wants.
Now on to football, let's entertain the (small, albeit) chance that he does not play this season. I honestly believe that LD is much, much better than we think he is. You could see it in his running ability last year. He's stronger than hubbard, and even Hubbard himself said that LD is faster than Chuba. He just needs to learn to read defenses and holes like Chuba does, he's become an expert at that. I'd be more worried about depth behind LD than I would the lack of starting production without Hubbard. To add to that, we had to rely HEAVILY on the run game with the lack of experience throwing the ball last year. That won't be the case this season. If there even is a season, lol.
Please Mike Gundy take your muzzle off and talk some football! This continuing storyline about Cowboy football and opinions of our society needs to be put on the back shelf. Our leader needs to talk about football and not remain in his shell. Change the discussion!
I do appreciate your guys hard work and nonstop coverage.
Though I'd think people here complain when events that potentially can harm OSU are continuously brought in to the spotlight over and over again because this is an OSU fan blog.
Not saying you guys should be censored at all, just saying when your target demographic is OSU fans, reporting on big wins from 400 different angles is going to be received far more positively than reporting on events that are potentially harmful to OSU from 400 different angles.
This is fair. I think there have been times where there's a misunderstanding of what we're trying to be (both externally and internally). That's v much on me.
Chuba is a superstar RB. Massive dropoff after him unless LD suprises me some. LD doesn't have near the size and power of Chuba. Glass might end up being a stud but I want Chuba out there. He might be the best RB in the country. Gonna be a big drop off after him.
Smart move of Chuba to delete his account. All it can do it create drama. I don't agree with most of his tweeting. Yes he has a right to say it sure. Others have a right to disagree. If people destroy property they can and should be arrested.
Here is a good example of where some of our frustration comes from with the recent direction of the site @kyleporterCBS…Boone's article regarding the whole Gundy t-shirt debacle and how it affected him has been pinned as the lead story for 7 days straight on this site. OSU fans are ready to move on (at least this one is) and are hoping recruits / players can look past this negative situation that occurred. With so many things going on over the last week (commitments, decommitments, pre-season awards, etc.) why the need to keep this front and center for a full week when it happened over a month ago? We are over it but you guys won't let it go.