Would love to know the lowball, egotistical offer OU/Texas made to exit next year. Hey, I'll contribute $5 to a GoFundMe to get these slimy programs to the SEC this year.
Adding Gonzaga would be interesting.
I want Texas and ou to have the Schedule we have this year . Old guys versus the new crew see how they two year experiment works before they pack their bags .
I want OU and Texas out like yesterday but in no way should they get a discount. They should pay the full amount. 20% upfront and the remaining amount to be paid over time. Of course, probably FOX is the big hang up in all of this as well.
I would like to see the dollar amount it would add but I like the idea of adding Gonzaga it seems like it could be an interesting way to add value and cement us as the premier college hoops league.
There's a risk for once Few retires from Gonzaga they fall off so I'm curious how big of the upside is they potentially bring to the table.
Don't let them out light , charge the full amount to the lowlifes…full amount. If you ever read the goon boards , most wish they had never done it
I say no on the Zags

@michael13 Dude, I have a subscription to SoonerScoop. There is not a single post/forum/thread that I've seen that wishes OU hadn't gone to the SEC.
@michael13 Its not even a topic of discussion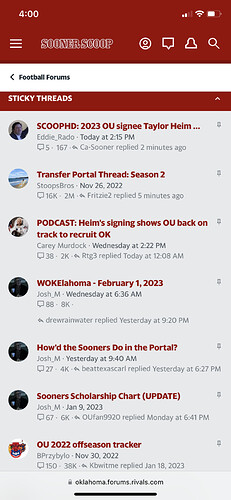 "Premier college hoops league". This is the most competitive basketball Conf in the country. As far as on-field play, it's as good as it gets. Unfortunately…….that distinction means absolutely nothing in the world of college athletics realignment/$$. Adding Gonzaga would do absolutely nothing.
SEC has football locked up for the foreseeable future, gotta be the best in something might as well make it the #2 revenue sport
Why would Gonzaga want to do jump in this Conf? The PAC makes waaaaay more sense. But I hear you. It's worth a shot
You don't read the Owens Field much then do you ? Evidently you should. I've seen many posts there saying they wish they had stayed. I don't know if or read the blog you posted. I know that you have all the information and know all about it the going ones in sooner land But I remember what I read
@michael13 What is "Owens Field"? I've never even heard of that one. LandThieves, FootballBraniacs, Teddy & Ikard are some good ones. But OwensField is not one I'm familiar with.
SoonerScoop is through Rivals. It's the most informative and in depth site for OU football. It's the only site that's got an NIL deal with a player on the roster. You won't find a better one. I don't know of a single OU fan who DOESNT want to go to the SEC. You'll get mixed views on how successful or not it'll be on the field. You'll get mixed reviews on when they want to go. But you live in a different world if you think the OU fans don't wanna go to the SEC
Yormark is not going to ask my advice, but if he did:
Nix OU v. Texas in '24. Have both teams play 5 TRUE road games – something everyone else has to do;
Both the Sooners and Longhorns should play AT UCF, BYU, Iowa State (late in year), West Virginia and K-State.
OU should not host OSU in '24. Screw that.
@FreeDrop I assume this is being said with tongue planted squarely in cheek…….& it made me lol. Well done.
See, well thought out, articulate, logically illogical Sooner distain is good stuff. The ignorant venom that a few spew on here is the worst
@michael13 If you wanna hear some interesting conspiracy theories, ask an OU fan about holding penalties during conference play in football.
@michael13 That's OU insider. It's under the 247 umbrella. Parker Thune is their main guy & he's a 24yr old who doesn't know much IMO. It's ok. They get 2nd hand stuff
@KetchupSicle
I'll one better you on penalties. Read the Tech boards … every ref is crooked and favors the rest of the B12