Based on the hype of the major improvements the OLine and the RB room vs what we just saw I have 100% confidence Sanders has not improved since last year.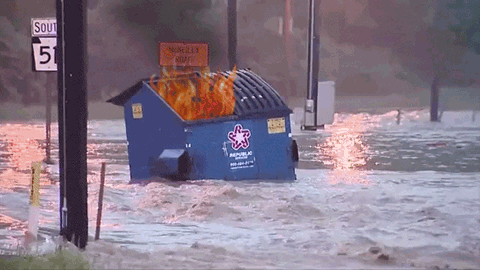 Do we have any other plays besides an inside run and a deep pass? Of course, we don't!!! Because we've all forgotten who the head coach is. I've been saying it for two years now!!! Gundy had lost his ability to be a good coach!!!
It's amazing to me that Willie Fritz can go into Norman, OK with the Tulane Green Wave and come up half a yard short of pulling off perhaps the biggest upset in CF of the year. Then we have Mediocre Mike and company sweating bullets trying not to lose a home game to Missouri State of the Missouri Valley Conference!!! Missouri State people!!!
I'm just wondering now if they have what it takes to beat Tulsa!!! Based on what I've seen tonight that game is 50/50. Too bad the OL and the embarrassment of riches at RB seem to suck. About the only thing I've seen remotely close to the hype is Tay Martin and even he got shut down.
Just another example of an egomaniac Gundy, getting whipped up and down the field by an old school, knowledgeable HC, Bobby P! I am not a Bobby P fan, but he certainly made Gundy look like an inept fool tonight!
Even though OSU did not lose, this may be Gundy's biggest embarrassment as OSU's HC!
Gundy needs to go ASAP!!!
@robert28 I see you liked a message. Can we get your thoughts on this one?
You won't. Because people don't like to admit theyre wrong when they know it's the truth.
I have one thing to say to u Joey. U go on and on about Campbell and riley. Did we not have a larger win margin then both of them.
Msu just beat Northern Iowa in the spring and I dnt care what u want to say about Tulane. These are top 10 teams.
Talk about r running game hall average 3 yards a carry.
Rattler is a # 1 draft pic.
So Joey if gundy goes then those other 2 yahoos will too.
It's seem alot of guys did come to play. Hutton for mvp.
It's been a couple of years since we've seen so many penalties. The refs had a hard time too.
The defense will need to wrap up better.
The difference here Robert is that Tulane is a good G5 team and Northern Iowa is always a challenger for the 1AA title. Missouri State is nowhere close to being like either of those teams. So make whatever excuses you want. Even you can't seriously have a good enough excuse for Gundy today.
Tulane is a average team in a g5 league.
Both northern Iowa and msu play in the mvc. Msu won the head to head and made the playoffs. No Iowa did not.
Ou is the 2nd ranked team, so g5 or fcs should be rolled up. Go look at all the games this week alot of good games.
Do not come back and tell me that the #2 and #7 teams had it hard. U making excuses again.
UNI also views ISU as a rival so they play that game as hard as possible. Similar to Tulsa playing us as hard as they possibly can.
No iowa is 21 msu is 24. We are not rank and iowa is 7.
By the way #20 Washington lost to Montana by scoring 7 pts.
And yet I'm not surprised one bit. That's gundy and his two play playbook
Did throw long ball a bit much.
You're seriously going to defend a 23-16 win against Missouri State. You're the same guy that thinks Gundy is going to beat OU and win a conference title. Yet, here he is getting outcoached by Bobby Petrino and sweating bullets not to get best at home against Missouri State. Told you Petrino was a better coach.
I'm still all in with beating ou. Why would I not. Did u see what they did against Tulane. Tulane stopped playing football in 1935
Do you think Missouri State is better than Tulane?
Both games were poorly coached but I'm not concerned with OU looking awful, I am concerned about us. This was the most putrid game I've seen in YEARS.